How Kalles Shopify theme improves Ugreen's customer experience?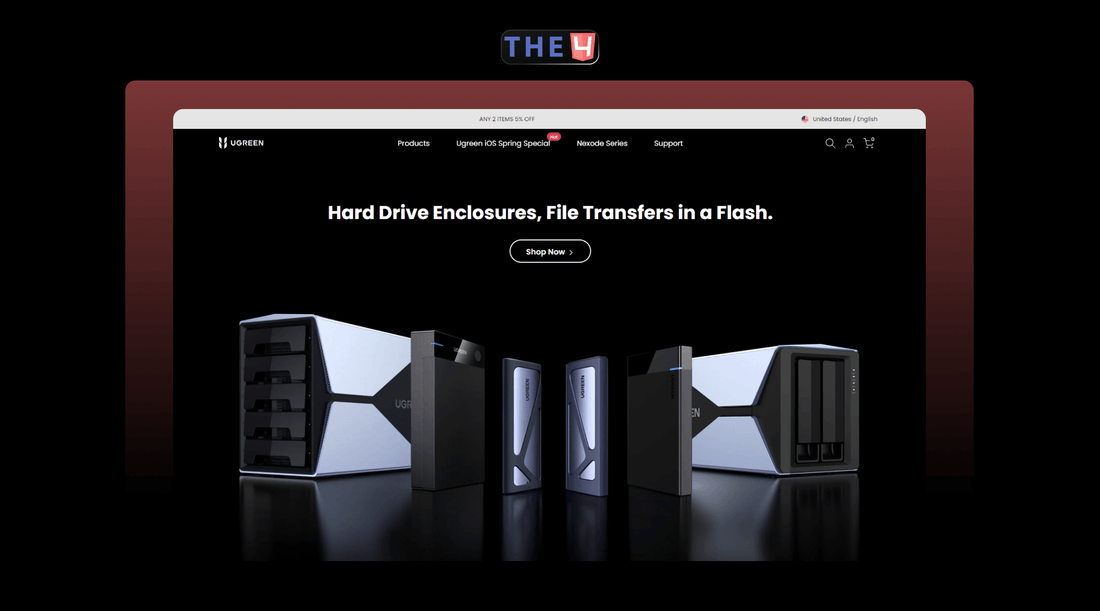 About:

Ugreen is a HongKong company that was founded in 2012 and has quickly become a leading brand in the electronic and mobile accessories market. Ugreen offers a wide range of innovative and high-quality products ranging from charging cables to audio adapters, phone stands to gaming accessories, and much more. 

Ugreen has a steady growth with wide trust from over 40 million users in more than 100 countries worldwide.

Industry:

Consumer electronics

Location:

Shenzhen, guangdong, China
In today's digital age, the quality of a website's design and user experience plays a significant role in determining the success of an online business. 
For Ugreen, a leading online retailer specializing in electronics products such as chargers, cables, and adapters, having an up-to-date and user-friendly website is especially important. 
In an effort to improve their customer's on-website shopping experience, Ugreen decided to revamp their website to a more modern and sleek design by Kalles, a Premium Shopify theme that offers a diverse range of customization and design features. 
In this case study, we will explore how the Kalles theme helped improve Ugreen's website performance, then bring the smooth and seamless shopping experiences to their customers.
The Challenges
Ugreen team is launching their business in different marketplaces such as Amazon, Ebay, AliExpress. And they recently want to rebuild their website to boost their on-website sales.
Ugreen's old website design was outdated, slow, and difficult to navigate. Their expectation is improving their website's design and functionality to increase conversions, customer satisfaction, and retention. Ugreen also wanted to incorporate new features like product customization and an easy-to-use search bar to enhance customer experience.
The Solutions
Ugreen made the decision to use the Kalles Shopify theme to update their website. Kalles is a well-designed theme that provides a sleek, modern, and minimalist look. It has a great product page layout and includes customization options that Ugreen was looking for. The theme is also mobile-optimized, ensuring that Ugreen's website looks great on all devices.
Let's explore in detail what Kalles changed Ugreen's website:
Well- thought-out website structure
The Kalles theme allows all merchant to create full range of standard pages and components that any websites must have, including,
- Homepage
- About us
- Product and collection pages 
- Terms of service
- FAQ page
- Policy page
- Contact us page
 Also, It gives Ugreen team to set the following website components:
- Header
- Footer
- Navigation
- Buttons
- Pick up suitable fonts and typography
- Visuals
Scroll and explore how Kalles designs the Ugreen's specific pages.
Stunning Homepage
One of the biggest advantages of the Kalles theme is the improved user experience. The theme offers various navigation features, such as mega menus, dropdown menus, and sorting options that make it easier for users to find the products they are looking for.
Kalles supports Ugreen creating stunning and functional Mega Menu, that makes customers figure out their product categories much easier.
Ugreen's Searching option built by Kalles theme gives the fast and accurate searching experience to the audiences.
In the first look after opening the Ugreen's website, there is a Top Bar mentioning their special deal. In the header inline, they listed their main pages, searching, member account and check-out icon which can help visitors search and explore all notable products and services of this company easier. 
Kalles' Slideshow was used to showcase best selling collections, attached a "Shop now" button so that customers can go to those categories without remembering and searching the exact name. 
Ugreen team also uses Kalles Shopify theme to show out their product benefits visually by Slider. 
Well-navigated collection page
As you can see, Ugreen uses Kalles theme's grid layout that makes their collections to be well - organized. 
In each product, they list out necessary information in short such as: Product name, price, rating and reviews. Some of them add a visualized discount badge.
Ugreen's collection pages have a Product Sorting option that helps the customers find out their ideal item much easier.
When clicking on a specific category, there is a sorting feature allowing visitors to find their products much easier.
Sale-driven product page
Thanks to Kalles Shopify theme, Ugreen team had built a comprehensive product page.
Kalles Shopify theme allows Ugreen to showcase their product details perfectly. That information is organized to make customers catch the important points faster, and have enough clues to purchase precisely. 
One special thing here Kalles theme was integrated with many Top Shopify apps, including the best review tools, so that the merchants like Ugreen can show out their product customer reviews visually to improve their brand social proof significantly.
Other landing & sales funnel pages
Using Kalles Shopify theme, Ugreen did build high-converting landing pages serving for their typical events and campaigns. Let's see the Ugreen's Apple event landing page. 
Not only using black and green palettes as the brand color, Ugreen utilized Kalles Shopify theme features to present their special discounts in grid or slider layouts. 
Besides, there are many pages being built by Kalles theme here
Ugreen's student discount page
Ugreen's Affiliate program page
 

Other CRO components

To boost sales and enhance customer retention, Kalles Shopify theme supports Ugreen team in setting up the lots of elements.
The Results
After implementing the Kalles theme onto Ugreen's website, the company noticed an immediate improvement in website performance. Here are some of the key results:
Better User experience
According to Sembrush analytics, the number of visitors accessing Ugreen's website increased over 55%, moreover, the time they spend on that website is much longer significantly. It showed that visitors found the user experience on the site much improved. People started exploring more pages and products on the site and stayed on the site for a longer period.
The Kalles Shopify theme helps Ugreen to acquire standards of the excellent user experience, including:
- Useful: They convey the message of their brand to the customers understandably and impressively via informative content, color scheme and banners.
- Usable: Kalles Shopify theme provides utilities to build Mega Menu, product grids, collections,... along with giving sorting and searching tools, scroll to top button, sticky add to cart bar, etc. so that the customers now can access the pages, seek and purchase their items smoother
- Desirable: By showing diverse images and adjusting color, layout, Kalles lets Ugreen present how qualified their products are, how people are happy when using those items, then evoke the emotions and desire of other visitors about their brand.
- Findable: Ugreen utilized Kalles features to improve their searching experience by searching and filtering tools, and dynamic navigation bar. With Kalles, this company can build different collection pages, along with visualized content arrangement, the users can find their specific information, or Ugreen charge, cable, etc. much easier.
- Credible: Kalles theme assists Ugreen with showing testimonial and customer reviews to make their content be able to gain trust from users and visitors.
Moreover,The Kalles theme's mobile-friendly interface greatly added to its overall success.
Improved Brand Image
The Kalles theme's modern and attractive design has contributed to an improved brand image for Ugreen. The website now looks more professional and polished.
Kalles Shopify theme includes customizable design options, allowing Ugreen to tailor the website's design to their brand image. By incorporating their brand colors, fonts, and imagery, Ugreen can reinforce their brand identity, contributing to improved brand recognition and loyalty.
In each element on Kalles Shopify theme, there are many options supporting customizing Ugreen website's color, font and images
Conclusion
Overall, the change to the Kalles Shopify theme helped Ugreen make significant strides in improving their website's performance, then enhancing customer's on-web shopping experiences.
By providing a more efficient and user-friendly website experience, Kalles helped boost the company's conversion rates, enhance its brand image, and make website management a more streamlined process.
It is clear that the deployment of the Kalles theme was the right decision for Ugreen, and it helped the company move closer toward their goal of providing their customers with an unparalleled online shopping experience.
—-------------------------------
Add Kalles to make your Pro online website
Explore all premium themes by the4
Follow Us on Facebook
Join Official Community