Starting a Shopify store in Australia - Everything you need to know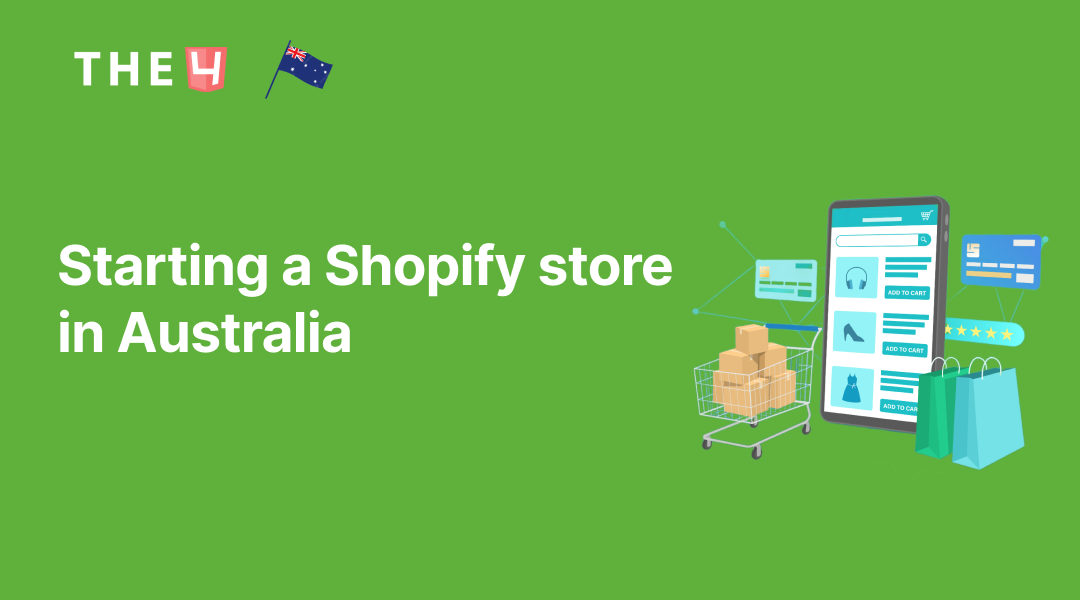 The increasing popularity of online shopping, characterized by its convenience and accessibility, has made it a widely embraced trend. In Australia, E-commerce ranks as the 11th largest market, boasting a revenue of US$31 billion in 2021, with projections indicating growth to US$32.3 billion by 2024. 
Many entrepreneurs are capitalizing on the e-commerce potential in Australia, recognizing it as a lucrative avenue for diversifying revenue streams. Even if you currently operate a traditional brick-and-mortar business, establishing an e-commerce store alongside it opens up opportunities on the international stage, broadens your global presence, and ultimately enhances your revenue.
This guide will provide comprehensive insights into the essential steps to create a successful Shopify business in Australia.
Overview: Starting a Shopify store in Australia
The Australian eCommerce sector holds significant promise, although creating a thriving eCommerce store can be formidable. Nonetheless, achieving success in the Australian eCommerce landscape is attainable with careful adherence to strategic steps and timely decision-making. 
As per data from 2019, the Australian eCommerce industry already boasted a remarkable revenue of 32 billion dollars, with a steady annual growth rate of 20.8%. Australia has become the 10th largest eCommerce market worldwide in revenue.
Fast forward to 2021, and the growth has surged to an impressive 8.9%, pushing the total value to $33.1 billion. Even in April 2020, online purchases saw a significant increase of 6.8% compared to the end of 2019. 
These statistics might seem overwhelming, but they underscore a clear trend: Australian eCommerce is undeniably rising. If you're contemplating the establishment of a Shopify eCommerce store in Australia, keep reading, as The4 has compiled a deeply guide covering everything you need to kickstart your Shopify eCommerce venture in the Australian market.
Why Choose Shopify for Your eCommerce Business in Australia?
As previously mentioned, the eCommerce industry is thriving in Australia. Shopify is the preferred platform for online businesses seeking a smooth and efficient experience in store design, development, and management. 
Shopify simplifies the setup process, making product and service selling more efficient. Numerous businesses have harnessed the power of Shopify to establish a high-quality online presence.
So, if you're looking to capitalize on this opportunity, now is the perfect time to launch your eCommerce venture in Australia using Shopify. Additionally, Shopify stores can be customized through plugins, extensions, and app integrations, providing flexibility and scalability.
Starting an Online Business Checklist with Shopify in Australia
Understanding What Australian Shoppers Prefer When Shopping Online
Australia is a diverse country with many different cultures. Since 1945, over 7.5 million people have moved to Australia, making it one of the countries with the most people born in other countries. Because of this diversity, Australian customers have varying expectations. For example, 62% of consumers prefer to buy from brands that create diverse advertisements.
These customers want ads, interactions, and experiences that feel genuine and personalized. To succeed, it's essential to understand this cultural diversity right from the beginning when planning your Shopify store. Your store should offer products that appeal to customers from various backgrounds.
Alternatively, you can focus on a specific customer group and offer products tailored to their needs. For local Australian shoppers, China, Japan, and the US are popular online shopping destinations. This is because Australian customers often buy from international sellers, and these foreign eCommerce sales can bring in higher revenue.
Creating Your Shopify Account
The initial step involves signing up for a Shopify account (3 days free trial + $1/month for next 3 months), which can be done by visiting the official Shopify website. New users have the option to start with a 3-day free trial. Click the 'Start free trial' button, complete the required fields, and await Shopify's account approval. Once your account is approved, proceed to the next steps.
Adding Products
Shopify accommodates both digital and physical products, each requiring specific details. 
First, provide a product description that includes the product title and a user-friendly product description. Use conversational language to enhance readability, and remember to include images and videos. Next, determine the product price, the item's cost, overhead expenses, perceived value, and shipping charges. Additionally, consider any applicable taxes and fees when setting the price.
After setting the price, manage your product inventory to keep track of stock levels. Lastly, address the shipping aspect, which includes customs, taxes, and shipping costs.
Customizing Your Store
The success of your Shopify store hinges on the impression it makes, and that's something you have control over. Your Shopify store should leave a positive, memorable impression on customers, driving immediate purchases and setting the stage for future transactions. To achieve this:
Create Essential Pages: Include crucial pages such as an 'About Us' page, FAQ section, contact page, and purchasing policy page. These pages build trust and provide essential information to your customers.
Choose a Suitable Theme: Shopify offers both free and paid themes. Ensure it aligns with your product range and functionality regardless of your choice. Your theme sets the overall look and feel of your store.
Optimize the Homepage: The homepage is vital for converting visitors into customers. It should prominently showcase the benefits of your products to entice potential buyers.
Revise the Navigation Menu: Customize the navigation menu to reflect the pages and products available in your Shopify store. Prioritize essential and frequently visited pages. Ensure that navigation is seamless and user-friendly.
You can try a third-party app like EComposer - the Next Generation Page Builder you need to create a fantastic Shopify store that brings irresistible shopping experiences for your customers.
EComposer Page Builder empowers store owners to swiftly and effortlessly craft a diverse range of page types and sections using an intuitive live drag-and-drop editor. It supports creating the Home Page, Landing Page, Product Page, Coming Soon Page, and Contact Us, empowering you to craft a professional and captivating website that effectively showcases your products and any theme section you need.
Incorporating a variety of built-in extensions not only streamlines the page creation process but also helps enhance sales—eliminating the need for multiple third-party apps and the associated time and costs. Plus, EComposer includes speed-up tools and optimized code, ensuring your store maintains optimal performance without any worries about speed.
Read more: 12+ Best Shopify Landing Page Apps FREE & Paid
Domain Setup
Configuring the domain is a pivotal step in the Shopify store setup process. When establishing a Shopify store in Australia, you can purchase the domain directly through the Shopify website. Alternatively, you can utilize third-party domain providers to set up your domain.
Payment System Configuration
Once your Shopify store setup is complete, paying close attention to the payment systems is essential. Store owners must configure the payment system before making the store live. Available payment options include Shopify Payments, Amazon Pay, Apple Pay, and Google Pay. Shopify notifies you of payments deposited into your bank account via email once the payment systems are configured.
Shopify Shipping
Shopify stores come equipped with integrated shipping solutions that handle all the calculations. In Australia, you can benefit from competitive international and domestic shipping rates offered by Sendle. Sendle simplifies the shipping process without incurring extra costs. To use Sendle, you simply create the shipping label, determine your parcel collection method, and print the shipping labels.
You may also interest:
https://the4.co/blogs/shopify-tutorials/shopify-launch-checklist
https://the4.co/blogs/shopify-tutorials/6-figure-shopify-store
https://the4.co/blogs/shopify-themes/best-digital-products-to-sell-on-shopify
What Are the Legal Obligations for Launching an Online Business in Australia?
Australian Consumer Law
This law has been updated to fit the needs of online stores. It was created in 2008 to protect consumers whether they shop online or in physical stores. Its main goal is to ensure fairness and trust between customers and businesses. It also prevents customers from being taken advantage of.
Privacy Laws for Spam and Data Protection
Email automation is a valuable tool for eCommerce. It helps businesses attract, convert, and inform customers about sales and new products. However, it can also lead to customers feeling overwhelmed with promotional emails. To address this, the Australian government introduced Spam and Data Protection Laws. These laws regulate how many emails and messages businesses can send customers, protecting their privacy.
eCommerce Shipping Restrictions
Australia has specific rules about what can be shipped through courier, freight, and postal services. Some items are strictly prohibited, including aerosols, airbags, ammunition, alcohol, animals, cigarettes, dry ice, fresh fruits, vegetables, nail polishes, explosives, and perfumes. Other products, such as poison, perishable goods, and hazardous materials, also have shipping restrictions.
GST taxes
All goods and services in Australia are subject to a 10% Goods and Services Tax (GST). Therefore, it's crucial to factor in GST taxes when selling products through a Shopify store. The advantage of starting a Shopify store in Australia is that the tax system is straightforward and user-friendly.
To elaborate, GST applies to both offline and online retail sales, including imported goods sent to customers in Australia. For imported products exceeding $1,000, the importer is responsible for paying GST, duties, and other associated charges and taxes.
Furthermore, if you sell to Australia and your annual sales surpass or equal $75,000, you must charge GST on low-value products. Therefore, a legal requirement is to register for GST in Australia and ensure the proper collection of these taxes.
In addition to GST compliance, Shopify store owners in Australia should obtain an Australian Business Number (ABN). An ABN is an 11-digit identifier that establishes your business's identity to Australian customers and the government. Registering for an ABN also enables acquiring an Australia-specific domain name and enhances customer trust.
How to Register Your Online Business in Australia
Registering your online business is crucial to avoid penalties and fines. To register an online business in Australia, you can visit register.business.gov.au. Here, you can register your business name, Australian Business Number (ABN), Australian company name, and company.
Additionally, the website allows you to register for PAYG withholding and Goods and Services Tax (GST). Another option is to register your business name on asic.gov.au. It's important to note that business owners must register their businesses and business names and comply with various tax requirements as per the laws.
In addition to GST, ABN, and PAYG withholding, you must register for a Tax File Number (TFN). When choosing a business name during registration, ensure it aligns with your products and services. Verify the availability of your chosen business name on the ASIC website. However, it's worth noting that a business name is not the same as a trademark.
If your business requires exclusive rights to a particular name, register it as a trademark. Check existing brands using the Australian Trade Mark Search on the IP Australia website to avoid infringement issues. ASIC registration fees are $35 or $82 annually for three years.
Online registration typically takes about twelve minutes. If you already have an ABN, have provided the required documents, and paid the fees, your confirmation will likely be quicker. Verification may take up to two business days if you paid online with a credit card or around five business days if you used EFT, bank transfer, or BPay.
Conclusion
In conclusion, starting a Shopify store in Australia offers an exciting opportunity to tap into the thriving e-commerce market. With the right strategies and insights, beginning your journey of creating a Shopify store in Australia can lead to a successful venture. From understanding the local market to navigating legal requirements, this guide covers everything you need to know to start a Shopify store in Australia.