How to add Free Product Comparison Tables on Shopify stores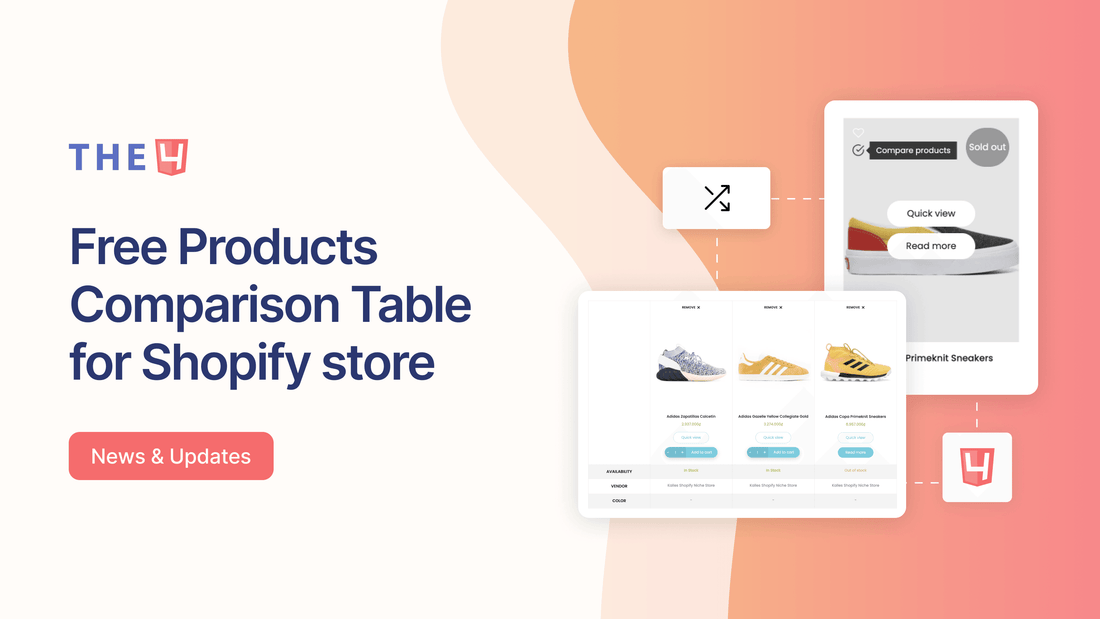 There's a fact that most of the visitors have a difficulty in selecting and purchasing products/ services that best meets their expectations. 
That's why a product comparison table is essential for eCommerce websites as the great way to robust customer shopping experiences. 
Via the blog: How to add product comparison tables on Shopify stores, we would love to let you know how to make your great.
Scroll and dig down!
What is product comparison?
Put everything needed on scale.
It's what a product comparison will do.
In detail, this is a feature that supports customers in comparing any aspect of many products, hence motivating them to make purchasing decisions much easier. 
For example: besides the original price, customers also want to know which brands this product is made of and whether they are in stock or not. 
There are some key components that a product comparison need to have:
- Product description and details: Showing basic things of products/ services in the comparing list. For example: one winter coat might be smaller than another. 
- Product highlight features: Depicting what unique points that the product has but the others don't? For example, a coat might be made of highly qualified fabric, so keeping warm even in extremely cold weather.
- Product key benefits: prove that the product will make the consumers life easier and how it differs from similar products.  
[ecom-global-block]ecom-shopify-trial-block[/ecom-global-block]
Top benefits of eCommerce Product comparison table
When people must choose among many alternatives, it's difficult to compare the pros and cons of each individual alternative, so they make non-compensatory decisions. They usually use one hard criterion that outweighs any other considerations to reduce the number of alternatives to a manageable one.
Let's dive into the top benefits that eCommerce Product comparison can give you.
1. Systematize product information
Normally, product descriptions do not follow the consistent format. Buyers may struggle to decipher the information or locate data relevant to their selection.
Product comparison tables standardize the criteria for analyzing all items. This makes it easier for users to determine which offer best meets their requirements.
Customers can even choose which features to compare in some product comparison tables. Customers highly value this option, so consider including it.
2. Retain users on your website
The user typically visits each product page and reads the product descriptions to compare the features of multiple products. This takes time and requires a good memory. It also frequently confuses the user, who has moved back and forth between several open pages to compare. This becomes a slow and somewhat disorganized process, which may eventually turn off buyers.
The tables present the information in a structured manner and summarize all relevant data for decision making in one location.
It's also a good idea to include customer reviews or at the very least the overall rating of the product. This tactic uses social proof to support the buyer's purchase decision and keep them on the site.
3. Enabling direct conversions
 Conversion can be aided by including a CTA (call-to-action) in the product comparison table. For example, you could place a "Add to cart" button beneath each item. You can then direct the buyer to the next action (micro conversion) without having to return to the product page.
Also, keep in mind that the ease of use of the payment process has a significant impact on conversion. Make your process simple and quick.
4. Enhance customer engagement
The usability, simplicity, accessibility, and utility of a website determine the user experience. Product comparison tables meet all of these criteria. They add real value by making decision making easier. They are simple to read and allow for quick interpretation of data.
People typically use compensatory decision-making when choosing from a small number of options (generally under 5-7); they consider each option's merits individually and weigh its benefits and drawbacks in relation to various factors. 
Applying product comparison for your online stores is such a beneficial solution for customers to see and compare multiple important attributes at a glance, like customer services, membership tiers, pricing plans, software features, tuition costs, or locations. 
In other words, product comparison can reduce the amount of work required by the customer to locate and compare data. All of this contributes to a positive response to your online store and increases consumer trust. A positive user experience, in turn, leads to higher conversion rates. As a result, the product comparison table is an essential component of any online store.
This feature can be used to compare similar items from the same organization, or to compare one organization's products against those from a rival. Then, they can make the purchase more precisely.
[ecom-global-block]ecom-open-store-block[/ecom-global-block]
Best advices for a great Product Comparison table
The quality of a product comparison chart greatly influences the results it can produce. Implement the following suggestions to provide your customers with a truly valuable product comparison:
1. Volume of comparable items
A standard number of items should be contained in a product comparison table is 5 items. The greater the number, the more difficult it is to effectively convey information. If the selection is large, use filters to narrow it down.
For static tables, a smaller number of items is especially recommended. Include no more than five comparable products. Allow users to remove irrelevant comparison points as well. This will improve the table's usability.
2. Be consistent
The product comparison tables' content should be consistent. This tool's goal is to provide comprehensive and comparable data. A comparison table with blank cells and missing data is useless. Make sure your product descriptions are consistent to avoid this.
3. Having relevant features
In the product comparison table, only include the essential features of the products. Long tables are challenging to read. A long list of features will only confuse the buyer and add no real value.
This can be difficult when dealing with products with complex features or varying user relevance. Allowing users to select the criteria that interest them is especially useful in such cases. Give them control over the table's structure so they can decide what information to display.
Customers can expand or collapse interactive rows as they see fit. They can then select the level of detail and features to compare.
4. Clear UX-UI
Comparing products requires a high demand in the mental process. As a result, assist your customers in reducing the time and effort required to process the information. 
Remove any unnecessary elements from the product comparison table and go for a simple and straightforward layout. Maintain the standard format by arranging the products in columns and the features in rows, with labels in the top or left margins.
It is best to anchor the column headers in long tables so that they are always visible. The use of color codes and shading in the cells also aids in the readability and differentiation of the elements.
Make it simple for users to search through the data and find what they're looking for. Make use of simple phrases, short sentences, and keywords. Ensure the text is evenly distributed in the cells and that the spacing is correct.
5. Fully responsive with all devices
Mobile commerce is growing rapidly.
In particular, throughout the 2018 holiday season, 40% of all eCommerce purchases is accounted for on a smartphone. 
This trend is expected to persist in the coming years. That is why it is critical to provide the best mobile experience possible on your site.
Creating product comparison tables for mobile devices is both difficult and rewarding. Keep the options as simple as possible and limit the views to no more than two items. More products cannot be displayed on the small screen of a cell phone. Ignore design details and concentrate on the essentials.
How to add Product Comparison table with The4 toolkits
If you're looking for a highly qualified application to add a high-converting table of product comparison, The4 toolkits - one of The4's products, is worth this. Let's take a look below.
What is The4 Toolkit Compare - Wishlist?
The4 Toolkit is a new Shopify app developed by Nitro Apps - an eCommerce-savvy developing team. 
With this app, Shopify users can add a Product comparison element to their Shopify store, just by dragging and dropping. Your online customers can create their own comparing list and return to check them at any time. With The4 Toolkit, you can significantly improve customer shopping experiences and increase sales.
This product comparison Shopify app is especially compatible with The4 Shopify themes such as Unsen, Kalles, Basel, Gecko, etc. 
Your customers can view these compare lists, and wishlists on any device such as computers, and phones, and just need to log in to their customer account later on.
The4 toolkit's top advantages:
✔ Free installation
✔ Assist for creating a clean and high-converting product comparison table.
✔ Compatible with The4 Shopify theme: Works perfectly with The4 themes like Kalles, Unsen, Basel, etc. The4 Toolkits can also work with other official Shopify themes.
✔ NO slow your site speed. 
✔ NO add any resources/codes to the site. 
✔ Fully responsive in different devices
✔ Compatible with EComposer Best landing page builder (release soon)
✔ Simple to use
✔ Uninstall is easy and doesn't have any effect on your site.
And more.
👉Grab The4 Toolkit HERE
How to Use The4 Toolkits
To setting product comparative sections by The4 Toolkits, let's follow the steps below:
Step 1: Add The4 Toolkits HERE
Click on "Add app" to install The4 Compare Toolkits for your Shopify store.
Then you will see The4 Toolkits dashboard appearing in front of you as the picture here
Step 2: Select your working theme
In The4 Toolkits's dashboard's guide area, you will see a theme selecting dropdown box. Check and pick up the theme you want to apply to the table comparing section.
Step 3: Activate The4 toolkits on your theme
Open Customize theme on Online stores tab. Then find App Embeds, and turn on The4 toolkit's embed button. 
Step 4: Add Compare sections:
In the The4 toolkits dashboard, you see the checkbox "enable Compare". Just click on this to activate.
Then you need to go to "Customize theme", and find the "product" page.
In the "product main" section, open " Add Section", and choose "The4 Compare". 
A Comparative icon will be added on both each product image, "product main" and "quick view" modes. Just click on that icon to add and generate the product comparative table, like the image below.
 Via the comparing table generated by The4 toolkits, your customers can see essential attributes of each of their chosen products such as pricing (attached the discount if any), availability, name of the product vendor, and color variants. 
They also can either "quick view" or "quick shop" the items listed in this table. And removing no-needed compared items on the product comparison table is just a piece of cake.
Best eCommerce Product comparison practices:
Let's explore several notable examples of High-converting comparison table here
Fitbit
Fitbit displays the various features of its products using a colorful, visual chart. The table also shows the product price and makes use of eye-catching ticks to provide shoppers with quick information.
Amazon
Another example of effective product comparison table is Amazon
Amazon's product comparison tool displays relevant items on product pages. Customers can quickly determine whether the product page they are on is the best one for them or if there is a better option available without having to return to the search function.
 [ecom-global-block]ecom-shopify-commerce-coach-block[/ecom-global-block]
In a nutshell,
You have read about the necessity of product comparison features for an eCommerce store, and main things you need to notice when applying that feature.
Also, by introducing our new Shopify app - The4 toolkits, we have shared with you a fantastic suggestion to improve your customer's shopping experience, generate more profit and let customers more engage with your Shopify store.
Please do not hesitate to leave your thoughts in the comment box below this blog. They provide such motivated feedback that helps The4's product improve. We're all ears for you!
------------------------------------------------
Add The4 toolkits - Powerful Shopify App of Product Comparison
Follow Us on Facebook
Join Official Community
Open New Shopify store with just $1 for 3 months