Shopify 1MBB: Free 120-Day Trial Black Community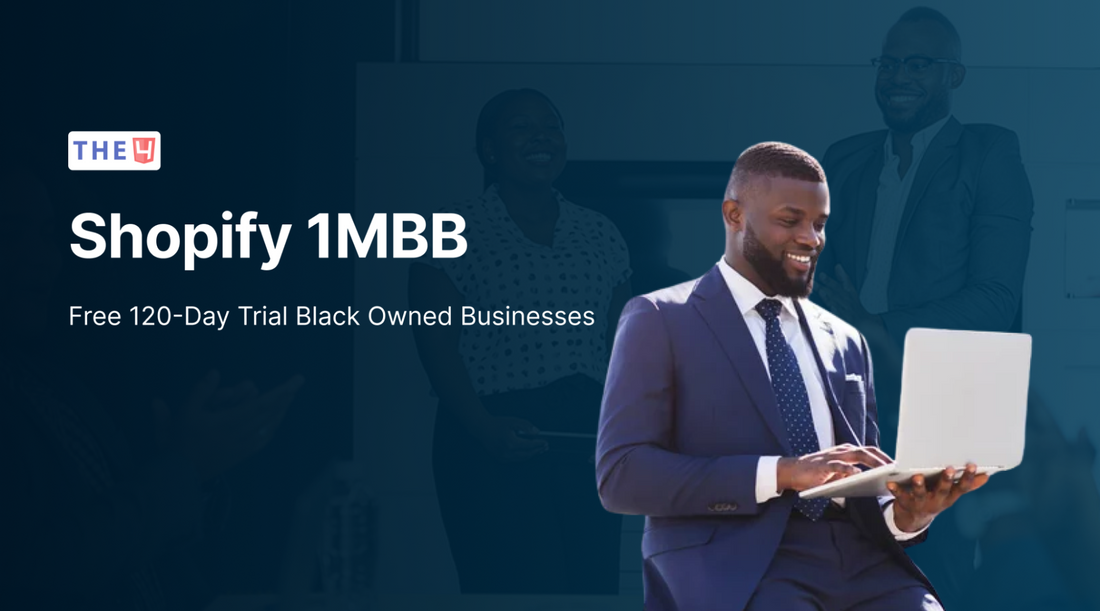 Every budding entrepreneur dreams of turning their passion into profit. However, the path to success is often lined with barriers, especially for Black-owned businesses that deserve equal chances to flourish.
But what if there was a game-changing platform that provided the tools for success and extended a warm and generous hand to help entrepreneurs overcome these barriers? That's exactly what Shopify's 1MBB program is all about.
This blog will provide all the information about Shopify 1BMM and how to get a 120-day Free Trial of Shopify 1MBB. Are you ready to discover the key to success and empowerment? 
Let's dive in!
What is Shopify 1MBB Program?
Shopify's 1MBB, short for "1 Million Black Businesses," isn't merely a program; it's a movement. This visionary initiative was crafted to address the unique challenges Black entrepreneurs face, who have long grappled with barriers to success in the business world. It's a digital bridge that connects dreams to reality.
The heart of 1MBB lies in inclusivity and empowerment. It's a testament to the belief that every entrepreneur, irrespective of their background, should have a fair shot at success. Shopify's 1MBB program is where dreams take root and grow, where innovation meets inclusion.
One of the standout features of this program is its generous 120-day free trial. It's an extension of Shopify's standard 14-day trial, providing Black-owned businesses with the necessary time and resources not just to set up shop but to thrive without the immediate financial pressure.
What is a Black-Owned Business?

In the diverse tapestry of the business world, the term "Black-owned" signifies an enterprise where the majority ownership, usually 51% or more, rests in the capable hands of individuals who identify as Black or of African descent. These businesses are not just economic entities; they represent the dreams, aspirations, and resilience of a community that has overcome countless obstacles.
As reported by BusinessDit, in 2022, black-owned businesses represent a minority, accounting for just 9.75% of the total businesses in the United States. However, within this statistic lies a compelling story of perseverance and growth. Each year, the number of black-owned businesses continues to climb, defying the odds and redefining what's possible.
The potential held by black-owned businesses is nothing short of remarkable. According to a recent study conducted by Shopify, these businesses can contribute an estimated $190 billion to the economy. This is not just a number; it's a testament to the untapped potential of a vibrant community ready to make a significant impact.
Benefits of Shopify 1MBB's 120-day free trial
When building a successful e-commerce business, having the right tools and support can make all the difference. Shopify's 1MBB program goes above and beyond to provide Black-owned companies an extended 120-day free trial, ensuring they have the time and resources to thrive. Let's explore the incredible advantages this trial offers:
Extended Trial Period:

The standard 14-day trial doesn't cut when striving for success. Shopify's 120-day trial gives business owners the breathing room to set up, test, and grow their online stores without the pressure of immediate subscription costs.    

Comprehensive Testing:

E-commerce is dynamic, and testing is crucial. With a four-month trial, businesses can experiment with different strategies, learn from customer behavior, and fine-tune their operations for optimum results.

Product Development:

Creating a unique and marketable product takes time. Shopify's extended trial allows businesses to focus on refining their offerings, ensuring they're primed for success when they launch.

Marketing and Seasonal Campaigns:

Timing is everything. The 120-day trial allows Black-owned businesses to plan and execute marketing campaigns, especially during seasonal peaks, without being rushed.

Informed Decision-Making:

Entrepreneurs can make well-informed decisions about their businesses during this trial period. They can assess their business's potential, analyze market trends, and strategize for long-term success.

Access to Premium Features:

Shopify is quick during the trial; participants have access to all the premium features, ensuring they can make the most of their time and resources.

Support and Learning:

Education is a cornerstone of success. During the 120-day trial, participants gain access to Shopify's comprehensive resources, including educational materials, webinars, and a supportive community.
This extended trial is more than just an opportunity; it's a lifeline for Black-owned businesses to step into the eCommerce arena confidently. The 1MBB program ensures they have the time, tools, and knowledge to transform their ideas into thriving online businesses. 
With these benefits, immediately create your store and experience it by clicking the button below.
How to get a 120-Day Free Trial of Shopify 1MBB?
Unlocking the immense potential of the Shopify 1MBB program with its generous 120-day free trial is a breeze. Here's a step-by-step guide to get started on your entrepreneurial journey:
Step 1: Visit Shopify's Dedicated Landing Page
Begin by visiting the dedicated landing page of Shopify 1MBB at www.shopify.com/1mbb.
Once on the landing page, you'll spot a prominent Start Free Trial call to action button in the top right corner.
Note: This trial offer is exclusively available to businesses in the United States, Canada, or the United Kingdom.
Step 2: Self-Identification and Tailored Questions
Clicking the button will redirect you to an online survey.
As this program is dedicated to Black Entrepreneurs, you'll be asked to identify yourself as a member of the Black Community.
The questionnaire is personalized to your unique circumstances, whether you're a novice merchant or a seasoned entrepreneur.
You can select your desired sales channels, link them to your social media profiles, and specify your business's location.
Rest assured, all this information can be modified later in your Shopify Admin Dashboard.
Step 3: Choose Your Plan
To set up your plan, click the Select a plan call to action at the end of the page (this can be done during your free trial).
Step 4: Select the Monthly Plan
Ensure that you opt for the monthly plan instead of the yearly plan.
You'll only see the 120-day Free Trial option on the pricing table once you meet all the requirements for the Shopify 1MBB program.
Step 5: Confirm and Add the Payment Method
Confirm your plan and business address on the billing page.
Add your payment method, which can be done via credit card or PayPal.
Top 5 Success Stories from 1MBB Participants 
The Lip Bar
At the helm of The Lip Bar stands the visionary CEO Melissa Butler, a woman who took the beauty industry by storm. Fueled by frustration over the industry's lack of diversity, she embarked on a journey to create a brand that celebrated and represented everyone.
Starting with lipstick as her canvas, Melissa Butler's dream has blossomed into The Lip Bar, a company now renowned for its extensive line of vegan and cruelty-free makeup products. Beyond lip color, The Lip Bar has become a one-stop destination for beauty enthusiasts, offering products that align with ethical and sustainable values.
The Lip Bar's influence extends far and wide, with their products gracing the shelves of their Detroit-based store and even finding their way into the hearts of shoppers nationwide through prominent retail giant Target.
Website: thelipbar.com
Curlmix
Kim and Tim Lewis, the entrepreneurial duo sporting luscious curls, launched CurlMix in 2015 to address the underrepresentation of the natural hair community in the cosmetics industry. Remarkably, by 2021, their brainchild had already amassed over $23 million in sales.
CurlMix is a groundbreaking monthly subscription service offering consumers five to seven all-natural ingredients and detailed instructions for creating personalized hair treatments. The company's success is undeniable, with a pre-investment valuation of $25.5 million through its crowdfunding campaign, and this value is projected to surge with future investments.
CurlMix isn't merely a brand; it's a movement that embodies diversity and celebrates natural beauty. Kim and Tim Lewis have turned their vision into a thriving business, enriching the lives of countless customers one curl at a time.
Website: curlmix.com
Daily Paper Clothing
In 2010, a wave of innovation swept through the fashion industry, originating from the heart of Amsterdam and bearing the name Daily Paper. This unique label, brought to life by the creative minds of Jefferson Osei, Abderrahmane Trabsini, and Hussein Suleiman, is far from ordinary.
Daily Paper's journey began in 2008 as a personal blog, an intimate chronicle of fashion, music, style, and the profound African influences experienced by these three close-knit friends in Amsterdam. As their blog gained traction, they ventured into the merchandise world, starting with just five branded T-shirts. Fast forward to today, and they've cultivated a thriving €30 million business, complete with a devoted following and an ever-evolving collection that seamlessly blends contemporary streetwear with traditional African motifs and patterns.
Daily Paper isn't just a brand; it's a bold statement that redefines the fashion landscape, making esoteric references come to life. Their success story inspires those who dare to venture where others haven't, turning passion into a remarkable reality.
Website: dailypaperclothing.com
Chicago French Press
Kris Christian, a former Wall Street analyst, was the visionary mind behind this unique venture. Her journey began with a typical coffee conundrum - the perpetual cycle of overdosing on java with cream and sugar. Kris believed there had to be a better way, one that involved savoring the coffee, not just enduring it.
Driven by a passion for reinvention, she set out to craft blends that were so rich and flavorful that they needed no added sweeteners. These blends are meticulously handcrafted, incorporating herbs and spices to unlock a world of tastes once the exclusive domain of artificial syrups.
Chicago French Press doesn't just stop at great coffee; they've also introduced a subscription program, offering customers the delightful opportunity to savor different varieties each month. Every cup is rewriting the coffee narrative, making it a journey of flavor exploration and pure enjoyment.
Website: chicagofrenchpress.com
Jungalow
The term "Jungalow," a clever fusion of "jungle" and "bungalow," represents an exciting trend in interior design. At its core, Jungalow's design is a vibrant celebration of warmth, comfort, and an explosion of colors. But what truly sets it apart is its reliance on the lush presence of plants, making it a haven for garden enthusiasts who want to bring the outdoors in.
The Jungalow journey started in 2009 when Justina Blakeney embarked on her plant-filled living room blog named Jungalow. This humble beginning has since blossomed into a thriving lifestyle brand, encompassing everything from planters to wallpaper.
Their mission is as inspiring as their designs – they're here to guide you in discovering your unique style and infusing your home with a radiant and positive energy. With the Jungalow approach, your living space becomes a canvas for personal expression and a testament to the beauty of the natural world.
Website: jungalow.com
Bonus Tip: Build your own 1MBB Shopify store effortlessly with EComposer
To achieve success for your 1MBB Shopify stores, several key factors come into play, including the need for impressive websites and compelling narratives that captivate customers.
In crafting stunning online stores, many businesses opt for time-saving solutions that yield exceptional results, such as Shopify page builder applications. Allow me to introduce you to EComposer - Page Builder, a leading application for web design on Shopify.
EComposer has garnered popularity among businesses thanks to its competitive pricing and remarkable effectiveness in website development. This cutting-edge Shopify app empowers users to create professional online stores without coding expertise. Offering a rich array of templates, elements, and extensions, it simplifies the creation of diverse pages, from Landing Pages and Product Pages to Home Pages, Collections, Blogs, and essential pages like FAQs, Contact Us, About Us, and more.
With EComposer, shaping your Shopify 1MBB store is not only straightforward but also fully aligned with your brand's unique requirements. It's the key to unlocking your online store's full potential.
The influence of the Shopify 1MBB Plan
Impact on The Economy
The impact of the Shopify 1MBB (1 Million Black Businesses) program on the US economy is remarkable. According to Operation Hope, a staggering number of over 169,000 black businesses have been supported through 1MBB. This direct support has translated into more than just numbers; it's about fostering economic growth, empowerment, and inclusivity.
By providing black business owners access to the necessary tools, resources, and professional services, 1MBB has ignited a wave of entrepreneurship and economic activity within the Black community. The impact ripples through every transaction, every idea turned into a thriving business, and every hour of professional service volunteered – an impressive 30,000 hours and counting.
These numbers aren't just statistics; they represent dreams realized, businesses flourishing, and a community empowered. The Shopify 1MBB program isn't just changing lives; it's reshaping the economic landscape, paving the way for a brighter, more inclusive future for black-owned businesses in the United States.
Impact on The Black Community
While the Shopify 1MBB (1 Million Black Businesses) program has indeed fueled economic growth, its impact reaches even more resounding, nurturing a sense of community and togetherness among Black entrepreneurs. 
Here are some key ways in which this program has positively affected the broader Black community:
Access to Resources:

The Shopify 1MBB program has been instrumental in opening doors for Black entrepreneurs, granting them access to a rich tapestry of resources. These encompass educational materials, tailored training programs, essential business tools, and marketing resources designed to meet their needs.

Mentorship and Guidance:

Through the program, Black entrepreneurs have found invaluable mentorship and guidance through partnerships with the Operation Hope Organization. This support is not just about business; it's about personal growth and empowerment.

Networking Opportunities:

The program has birthed a vibrant community of Black entrepreneurs, offering them invaluable networking opportunities and a robust support system. This network provides a fertile ground for collaboration, shared learning, and uplifting one another.

Business Visibility:

By spotlighting Black entrepreneurs and their businesses, the program has played a pivotal role in diversifying the corporate landscape and promoting inclusivity. It's not just about businesses thriving; it's about breaking down barriers and redefining industry standards.
The impact of the Shopify 1MBB program extends far beyond the success of individual businesses. It has sowed the seeds of unity and togetherness in the Black community, creating a nurturing environment where collaboration, shared success, and a collective rise to prosperity are not just ideals but lived realities.
In a nutshell
As we draw the curtain on the topic of "Shopify 1MBB: Free 120-Day Trial for Black Owned Businesses," it's evident that this program is more than just a free trial; it's a catalyst for dreams and a pathway to change. In the landscape of entrepreneurship, it levels the playing field and paves the way for innovation, growth, and success.
With a generous 120-day free trial, Black-owned businesses can explore the full spectrum of Shopify's features without financial constraints, making their entrepreneurial dreams a reality. The steps are simple, and the possibilities are limitless. The entrepreneurial journey begins here, and the future is full of promise.
=================
Add EComposer Next generation page builder Here
Follow Us on Facebook
Join Official Community
Open New Shopify store with Newest Exclusive discounts.