8 Easy Steps to Build a Website on Shopify (2023 Guide)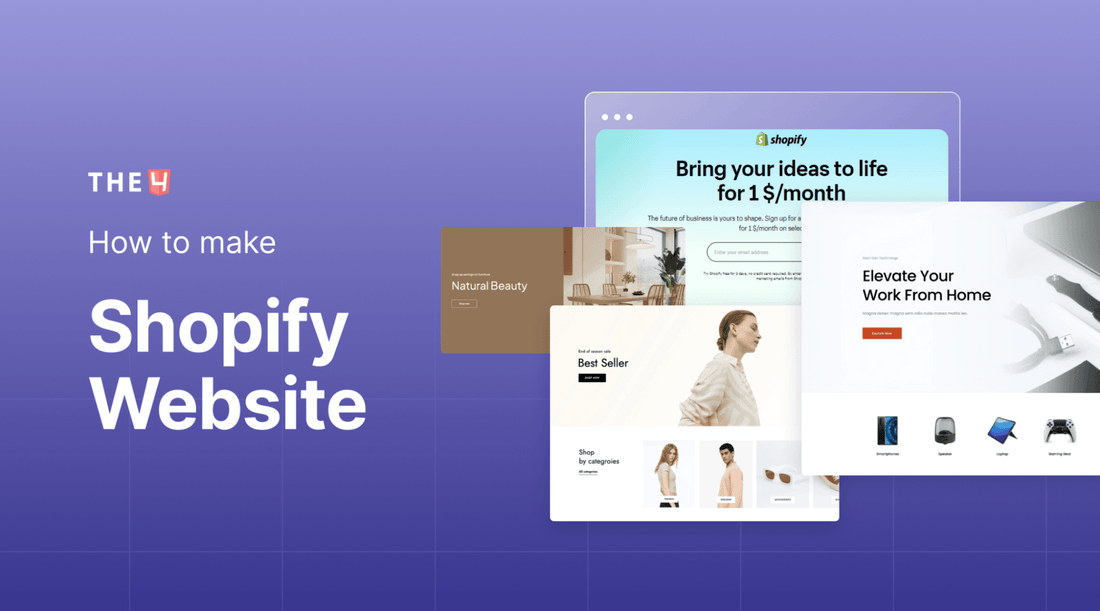 In today's digital era, establishing a strong online presence is vital for businesses of all sizes. A well-designed and user-friendly website is a powerful tool for attracting customers, showcasing products or services, and facilitating seamless transactions. If you're seeking a reliable platform to create your website, look no further than Shopify. With its intuitive interface and robust features, Shopify empowers entrepreneurs to build and manage online stores easily. 
In this comprehensive guide, we will walk you through creating a website on Shopify in just eight simple steps. Before going into the details, make sure you have built an eCommerce store on Shopify!
What is Shopify Website?
A Shopify website is an online store or e-commerce website built and hosted on the Shopify platform. Shopify is a leading e-commerce platform that provides individuals and businesses with all the necessary tools and features to create, customize, and manage their online stores.
With a Shopify website, users can showcase and sell products or services to customers worldwide. The platform offers a user-friendly interface, a wide range of professionally designed themes, secure payment options, robust inventory management, and marketing tools, among many other features. 
8 Easy Steps to Build a Shopify Website 
Step 1: Create a Shopify Account
To embark on your Shopify website-building journey, the first step is to sign up for a Shopify account. You simply visit the Shopify website and take advantage of their enticing offer of a free 3-day trial. Moreover, for select plans, you can enjoy an exclusive deal of 3 months of Shopify for only $1 per month.
The first information you'll need to input is your store name. Choose a name that accurately reflects your brand or business identity, as this will serve as the address for your online store. Once you've settled on a unique and memorable store name, proceed to enter your address and zip code.
These details are crucial for setting up shipping and payment options, so ensuring their accuracy is important. 
Step 2: Learn how to use the Shopify admin screen
After creating your Shopify account and logging in, you'll find yourself on the admin screen—the nerve center of your Shopify website. This is where you'll manage and fine-tune various aspects of your store, such as adding products, configuring payment and shipping options, tracking analytics, selecting a theme, and customizing your store's appearance.
Given the many features and settings available, the admin screen may appear overwhelming initially. However, fear not! Shopify's intuitive interface and user-friendly design make the learning process a breeze.
See all details at Shopify admin
Step 3: Choose and customize your theme
Shopify themes give your store a unique look and feel that only some Shopify businesses have. You will notice that the default theme on the Themes tab of the dashboard can be changed by choosing another free or purchased theme.
However, Shopify only offers some simple themes by default so that you can create pages with basic functionality. We recommend purchasing the paid Shopify themes or using a third-party app for better customization and more advanced functionality.
Go to the next part for more details!
Step 4: Add the products
Now that you're familiar with navigating the Shopify admin screen, it's time to add the products you plan to sell to your online store. This step is crucial as it allows customers to find and purchase your offerings easily.
To begin, locate the Products tab on the admin screen and click Add Product. This will open up a product creation page where you can enter all the necessary details about your product. Provide a compelling and descriptive title, detailed description, clear product images, and accurate pricing information.
As you add products, remember the importance of Search Engine Optimization (SEO) to improve your store's visibility in search engines. Consider incorporating relevant keywords and optimizing product descriptions to enhance your product's discoverability.
Read more: Create a High-Converting Shopify Product Page
Step 5: Configure basic settings (shipping, payments, etc.)
Before making your Shopify store public, there are a few essential settings to configure to ensure a seamless shopping experience for your customers. Let's delve into the key aspects:
- Store Details: Adjust the general information about your business, including contact details, address, and business policies. This ensures that customers have the necessary information about your store.
-  Billing: Offer a variety of payment methods to your clients using Shopify's billing options. Set up secure and convenient payment gateways to facilitate smooth transactions.
- Checkout: Customize the appearance and layout of the checkout page to align with your store's branding. Shopify provides options to modify the checkout page, including enabling One-page Checkout for a streamlined customer experience.
- Shipping and Delivery: Define shipping zones and prices applicable to the areas and countries you ship to. Use the Shipping and Delivery tab in your Shopify Admin to configure shipping options, set rates, and streamline order fulfillment.
- Taxes and Duties: Ensure compliance with tax regulations by managing tax calculations. Shopify simplifies this process by handling common tax calculations for various tax jurisdictions, making it easier for you to collect and remit taxes as required.
- Locations: Set up locations to manage inventory effectively. Whether you have physical stores, warehouses, or drop shippers, utilizing locations helps with inventory management, order fulfillment, and sales tracking. Shopify offers inventory management applications that integrate with your store and provide seamless inventory control.
Configuring these basic settings create a solid foundation for your Shopify store's operations. 
Find out more information here.
Step 6: Check out your store
Before launching your Shopify store, ensure everything is in order. Test the checkout process, verify order processing settings, validate inventory management, test shipping, and notifications, and check tax settings. 
Preview your store as a customer to ensure a smooth experience. Once you're satisfied, you're ready to go live with confidence.
Step 7: Customize a domain name
Now, you're just one step away from getting your Shopify store up and running smoothly - adding a personalized domain name. A domain name serves as your website address, allowing visitors and search engines to find and remember your online store easily. 
Shopify offers a reservation domain, www.your-store-name.myshopify.com, to help you set up your business. However, you want your business to be easier to remember for consumers or perform better in searches. In that case, you can choose a more personalized URL like www.your-store-name.com with how to buy a domain from Shopify or use a third-party app.
Go to Settings, select Domain, and start editing the domain to your liking.
Step 8: Pick a Plan and Make Your Store Public
When you're ready to launch your Shopify store, choosing the right plan that suits your business needs is important. Shopify offers a range of plans, each tailored to different stages of business growth and requirements. Here are the available options:
- Shopify Basic - $25/month: This plan is perfect for new businesses and entrepreneurs finding their niche. It provides essential features to get your online store up and running smoothly.
- Shopify - $65/month: This plan is a great fit if you're running an established business and seeking more advanced features and capabilities. It offers additional functionalities to enhance your store's performance and customer experience.
- Shopify Advanced - $399/month: Designed for fast-growing businesses with multiple employees, this plan provides advanced features, scalability, and priority support.
Take advantage of Shopify's current offer, which includes a 3-day free trial and 3 months of Shopify for only $1/month on select plans. This allows you to explore and experience the platform before committing to a long-term plan.
Read more: 
Everything about Shopify Plans and Pricing
Then click Themes under Online Store and click Disable Passwords.
2 ways to Build Shopify Website eye-catching
With over 4.12 million websites on Shopify, it's crucial to make your online store visually appealing and distinctive to attract and engage customers effectively. While Shopify provides default themes and customization options, exploring additional approaches can set your website apart. 
This part presents two ways to Build your Shopify website eye-catching.
Using Shopify themes
Uncover the vast array of Shopify themes before you, ready to elevate your online store. Whether you explore Shopify's curated selection or delve into the extensive collection on Envato Market, finding the ideal theme for your business is well within your grasp. Consider popular themes like Kalles, Gecko, Unsen, Ocolus, and more, each presenting distinctive designs and functionalities perfectly suited to your needs.
By carefully selecting a well-crafted Shopify theme, you can streamline the design process and customize it to align seamlessly with your brand identity. These themes provide a robust foundation, enabling you to tailor the information precisely to suit your business while maintaining a cohesive and engaging user experience.
Read more: Top 21 Best Shopify Themes Theme Forest
Using Shopify third-party apps
The second approach involves leveraging Shopify's extensive range of third-party apps to design your website. With over 8,000 free and paid apps on the platform, you can enhance your store's functionality, simplify management tasks, and boost sales.
One noteworthy app in this realm is EComposer - Shopify Page Builder. It has gained popularity among businesses due to its reasonable pricing and exceptional effectiveness in website design. EComposer is a cutting-edge Shopify app that empowers users to create professional online stores without requiring any coding knowledge. With many templates, elements, and extensions, it facilitates the creation of various pages such as Landing Pages, Product Pages, Home Pages, Collections, Blogs, and other regular pages like FAQs, Contact Us, About Us, and so on. 
Using EComposer and similar apps, you can unleash your creativity and build visually stunning web pages tailored to your brand's requirements. These apps provide the tools and flexibility to craft captivating online experiences that engage and convert your customers without extensive technical expertise. 
Wrap up
In conclusion, mastering the process of creating a website on Shopify through the 8 easy steps outlined above sets you on the path to establishing a successful online presence. By following these steps diligently, you can build a professional and engaging Shopify store that attracts customers, drives sales, and propels your business forward.
If you want more information or to learn more about The4 products, follow us at the4.co or click on the message icon in the right corner of the screen.
=================
Follow Us on Facebook
Join Official Community