Understanding Shopify Pricing Options for Nonprofits - What you need to know?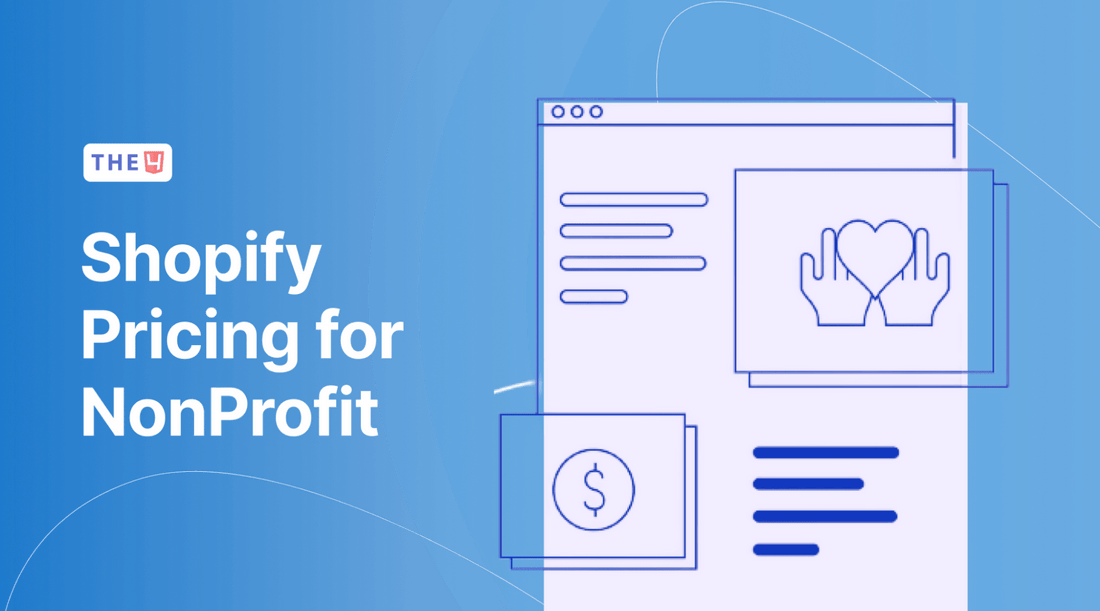 In today's digital age, nonprofit organizations are increasingly harnessing the power of e-commerce platforms to expand their reach, engage with supporters, and raise funds. Shopify, a leading e-commerce platform, recognizes the unique needs of nonprofits and offers special pricing plans tailored to their requirements.
In this blog post, we will delve into Shopify nonprofit pricing and explore why it has become the platform of choice for many charitable organizations. Before going into the details, make sure you have built an eCommerce store on Shopify!
What is a Nonprofit Organization?
A nonprofit organization is a business entity that operates with a primary focus on serving a social cause or benefiting the public, rather than generating profits. These organizations are granted tax-exempt status by the government, allowing them to reinvest their earnings into their mission. Unlike for-profit businesses, nonprofits cannot distribute profits to individuals or shareholders.
Why choose Shopify as a platform to develop nonprofits?
1. Shopify has a sustainable record
One compelling reason to choose Shopify as a platform to develop nonprofits is its impressive sustainability record. Shopify's commitment to fighting climate change is evident through its dedicated Sustainability Fund and carbon-neutral platform. In 2018, Shopify's migration to Google Cloud further reduced its carbon footprint, as the platform now operates on renewable energy. By partnering with Shopify, nonprofits can contribute to a greener future while leveraging the power of Google Cloud's sustainable infrastructure.
2. Shopify allows businesses to close Control and Customize
Another reason to choose Shopify for nonprofits is its user empowerment. With its intuitive interface and wide range of native functionality, Shopify enables nonprofits to take a hands-on approach to creating and managing their online stores. Without specialized staff, nonprofits can easily build and maintain their online presence. Shopify's user-friendly interface allows impressive results and automation, even without extensive technical expertise.
3. Shopify has a thriving ecosystem
A major advantage of Shopify for nonprofits is its extensive ecosystem of apps and agencies. With a wide range of free or trial-based apps, nonprofits can access additional functionality without significant financial risk. Moreover, the thriving Shopify community offers abundant online support, advice, and resources, making it easier for nonprofits to navigate and succeed on the platform.
How to Sign Up for Shopify's Nonprofit Plans
Signing up for one of Shopify's nonprofit plans is a straightforward process that begins with connecting with their live support team. To qualify for a nonprofit plan, you must provide sufficient documentation or proof that your business holds nonprofit status in your country. 
In this section, we will explore the specific nonprofit plans offered by Shopify, highlighting their features and benefits: 
Shopify NPO Lite Plan
The Shopify NPO Lite plan is an excellent choice for smaller nonprofits searching for an affordable solution with essential features. Priced at just $29 per month, this plan offers additional features not normally available on the Basic Plan, providing numerous advantages for nonprofit organizations:
- Reduced Transaction Fees: Utilize a third-party payment provider and enjoy a lower transaction fee of 1% instead of the standard 2% charged on the Basic Plan.
- Lower Credit Card Rates: Exclusive lower credit card rates are offered through Shopify Payments, the in-house payment processor, helping you maximize the impact of your fundraising efforts.
- Accept Donations through Shopify Payments: Seamlessly accept donations if your nonprofit is registered as a charity in the US or Canada, simplifying the donation process for your supporters.
- Unlimited Staff Accounts: Collaborate effectively with unlimited staff accounts, ensuring all team members can access the Shopify dashboard.
- Real-time Carrier Shipping: Enhance the shopping experience and improve donor satisfaction by providing accurate shipping rates to your donors, a feature typically available on higher-tier plans.
The Shopify NPO Lite plan, priced at $29 per month, offers these essential features to help smaller nonprofits thrive and succeed online.
Shopify NPO Full Plan
For nonprofits seeking advanced features and greater flexibility, the NPO Full Plan offered by Shopify is the ideal choice. Priced at $99 per month, this plan builds upon the benefits of the Shopify plan and includes exclusive features:
- No Transaction Fees: By using a third-party payment provider, your organization won't incur any transaction fees, ensuring that every donation received can directly support your cause.
- Lower Credit Card Rates: Compared to the Shopify plan, the NPO Full plan provides lower credit card rates, enabling a higher percentage of each donation to contribute directly to your mission.
- Unlimited Staff Accounts: With the NPO Full plan, you can create unlimited staff accounts, fostering collaboration and empowering your entire team to contribute to your organization's success.
- Accept Donations through Shopify Payments: Charities registered in the US or Canada can easily collect donations, providing a secure and convenient method for supporters to contribute.
- Real-time Carrier Shipping: With real-time carrier shipping, you can provide accurate and competitive shipping rates, enhancing the donor experience and simplifying the purchasing process.
Setting up donations on Shopify is simple once you choose the suitable plan. It involves adjusting specific settings, such as disabling inventory tracking and marking donations as "not a physical product." Additionally, you can customize tax settings based on your region's regulations. To optimize your donation collection, consider using popular Shopify apps for nonprofits. These apps can streamline and enhance your donation process, ensuring a seamless and efficient experience for your supporters.
Top 5 Must-have Shopify Apps for Nonprofit Business
EComposer - Shopify Page Builder
EComposer is an exceptional Shopify page builder app that enables nonprofits to create visually stunning web pages to attract customers to their online store. With its intuitive drag-and-drop editor, designing beautiful pages becomes effortless, even without coding knowledge.
One of the standout features of EComposer is its extensive library of premade templates and elements, allowing users to customize pages quickly without starting from scratch. This versatility empowers nonprofits to create unique and captivating web pages that align with their brand identity and mission.
While EComposer offers multiple plans, the great news for non-profit businesses is that they can fully utilize EComposer's free plan. This free plan enables customers to create up to three custom pages, providing ample flexibility for nonprofits to showcase their products, services, and impact effectively. 
Feature Highlights:
* Live drag-and-drop editor for designing and viewing pages in real time.
* Design and customize all pages of your Shopify store, including Landing Pages, Product Pages, Homepage, Coming Soon, Contact Us, etc.
* Section Builder allows you to create and add categories to your store theme easily.
* Large library of over 200 section layouts and a wide range of components that is constantly growing.
* SEO optimization with custom titles, meta descriptions, and image settings for faster load times and better search engine rankings.
* Mobile-friendly and responsive design for all devices.
* 24/7 live chat support and resources for troubleshooting and guidance.
Pricing & Plans:
* Free Plan
* Standard Plan: $19/month or $190/year and save 17%
* Pro Plan: $39/month or $390/year and save 17%
* Premium Plan: $149/month or $1,490/year and save 17%
Rating & Review: 5/5 (1782 reviews) 
ShoppingGives
ShoppingGives is a powerful Shopify app that integrates charitable initiatives, donation campaigns and supports trending nonprofits. It fosters customer loyalty, engagement, and a sense of purpose for nonprofits, enabling them to make a positive impact while strengthening customer relationships.
Feature Highlights:
* Fully managed, end-to-end donation process that is 100% regulatory compliant.
* 100% of donations are always sent to your supported nonprofits.
* Actionable data to better allocate budget and personalize marketing.
* Create an omnichannel giving experience both online & offline with Shopify POS.
Pricing & Plans:
* Starter - $29/ mo (7-day free trial)
* Plus - $271/ mo
* Partner - $846/mo
* Pro - Contact sales
Rating & Review: 4.5/5 (115 reviews)
Shop for Good
Shop for Good is a platform that integrates charitable initiatives, offering donation campaigns and support for trending nonprofits. By using this Shopify app, businesses can drive customer loyalty and stay engaged with their audience, fostering a sense of social responsibility.
Feature Highlights: 
* Round up change to donate to charity at the cart or checkout (for customers)
* Donate and receive a discount or a gift as a thank you (for customers)
* Donate a % of sales on specific products and collections (for merchants)
* Donate a flat or custom amount to charity through PDP, cart of checkout pages
* Analytics that report customer engagement, AOV lifts, and donation detail trends
Pricing & Plans: 7-DAY FREE TRIAL
* Startup brands - Free 
* Emerging brands - $299/month
* Scaling brands - $700/month
Rating & Review: 4.7/5 (145 reviews)
Easy Donation
Easy Donation is a Shopify app that streamlines donation collections. Customers can easily donate any amount during checkout, seamlessly integrated into the order total. Simplify managing donations and engage customers in supporting your cause with Easy Donation.
Feature Highlights:
* Make it easy for your customers to donate anywhere on the website.
* Design a donation page that is 100% digital and requires no physical sales.
* Offer users various options to donate money to their chosen organization.
* Make your donors feel valued with a customized receipt that reflects your brand.
* Easily track donations received on a Monthly / Yearly basis for each Charity.
Pricing & Plans: 
* Basic plan - $6.99/month
* Advance plan - $9.99/month
Rating & Review:
Sprout: Plant Trees Grow Sales
Merchants trust Sprout to easily plant trees, become more sustainable, and reach eco-conscious customers. Embed tree planting in your store, and plant trees with each product sold or each order completed and showcase your positive impact through no-code marketing badges. Revive natural habitats, improve coral reef health, and fight against climate change
Feature Highlights:
* Automate tree planting and focus on your business
* Market your impact via product/cart badges, counters & premium photos & videos
* Multi-currency and multi-language support for all the marketing badges
* Works seamlessly with Shopify POS
* Dedicated support team to help you get set up!
Pricing & Plans: Free to install (You only pay for trees you plant. $0.33 per tree)
Rating & Review: 5.0/5 (159 reviews)
Examples of Shopify Nonprofit Organizations
1. Ornaments 4 Orphans
Ornaments 4 Orphans is a remarkable fair-trade social enterprise supporting orphans in Africa. Their Shopify store features creative merchandising with stunning, country-specific decorations. This approach highlights the skilled artisans behind the products while creating lasting employment opportunities and fighting poverty.
2. Darzah
Darzah, a project by Child's Cup Full, preserves Palestinian heritage through traditional tatreez embroidery. Their Shopify store showcases handmade products, supporting artisan salaries and employment programs in the West Bank. With a professional and visually appealing eCommerce store, Darzah effectively conveys its mission through pop-ups, enhancing the customer experience and advancing its cause.
3. Wagster
Wagster is a notable nonprofit offering all-natural dog treats. Their e-commerce site focuses on navigation, community, and cause. With engaging visuals and user-generated content, Wagster effectively conveys their mission while creating opportunities for those overcoming challenges.
Top tips for nonprofits to promote their services online
To make a meaningful impact and reach their target audience, nonprofits must promote their services online effectively. In this section, we will explore key strategies that can help your organization spread the word about your online offerings and engage with your audience.
1. Leverage User Generated Content (UGC)
One effective way for nonprofits to generate more interest and drive sales for their online brand is by leaning on the content produced by their customers. Nonprofits often attract committed communities, and if you're already utilizing hashtags on social media, you can leverage this user-generated content (UGC) in your broader marketing efforts.
UGC, such as images, videos, and testimonials your supporters share, carries authenticity and resonates with your audience. Consider featuring UGC on your website, in email newsletters, or even in print materials to showcase the real impact of your nonprofit's work. 
2. Create referral programs
Referral programs leverage social networks and influencer marketing to expand nonprofit reach. By offering discounts and promotions, nonprofits can encourage supporters to refer friends and family. This rewards existing supporters and attracts new audiences interested in supporting the cause. Referrals create a win-win situation, empowering supporters to promote the nonprofit while receiving tangible benefits actively. This word-of-mouth marketing amplifies reach, engages the community, and increases impact.
3. Use Google Ad Grants
For nonprofits looking to venture into paid advertising, Google Ad Grants presents a valuable opportunity. This program allows nonprofits to start experimenting with online advertising by providing them with a certain amount of credit to use within their Google Ad campaigns. The amount of credit granted varies depending on the location, with potential grants reaching up to $10,000 in the USA.
To take advantage of Google Ad Grants, your nonprofit must undergo a simple verification process by Google. Once verified, you can access the grant and utilize Google Ad campaigns to raise awareness, drive traffic, and reach a wider audience.
FAQs
1. What is the Difference between Nonprofit and Not-for-profit?
Nonprofit and not-for-profit organizations share similarities in their focus on purposes beyond profit-making. However, there are key differences between the two:
- Nonprofit organizations are formed for specific social or public causes and are eligible for tax-exempt status. They reinvest any surplus funds into their mission, and their primary goal is to serve the public good while enjoying tax benefits.
- Not-for-profit organizations, on the other hand, also have a primary purpose other than generating profit. However, they may not necessarily pursue tax-exempt status. Not-for-profits can include clubs, associations, or cooperatives, and they often have more flexibility in their financial activities than nonprofits.
2. Can I Sign Up for a Shopify Nonprofit Plan even if I don't Have a Shopify Store?
Yes, you can apply for a Shopify Nonprofit Plan even if you don't have an existing store. Simply contact the support team, provide the required documentation or proof of your nonprofit status, and they will review your application. You can start the sign-up process for a Shopify Nonprofit Plan regardless of whether you already have a Shopify store.
3. Are there any Eligibility Requirements for Nonprofits to Use Shopify for Nonprofits?
Yes, there are eligibility requirements to qualify for Shopify for nonprofits. Generally, nonprofit organizations must provide proof of their charitable status, such as a registered nonprofit or charity number. This documentation serves as evidence of their eligibility to use Shopify for nonprofits.
In a nutshell
In conclusion, Shopify nonprofit pricing offers a range of benefits and opportunities for charitable organizations. With its sustainable track record, customizable features, and thriving ecosystem, Shopify provides nonprofits a powerful platform to showcase their mission and engage with supporters.
By signing up for Shopify's nonprofit plans, such as the NPO Lite Plan and the NPO Full Plan, nonprofits can access affordable e-commerce solutions tailored to their needs. If you want more information or want to learn more information about EComposer and The4 products, follow us at the4.co or click on the message icon located in the right corner of the screen.
=================
Add EComposer Next generation page builder Here.
Follow Us on Facebook
Join Official Community
Open a New Shopify store with Newest Exclusive discounts.