Shopify Free Trial [2023] : Empower Your Online Venture Today! 🌟💻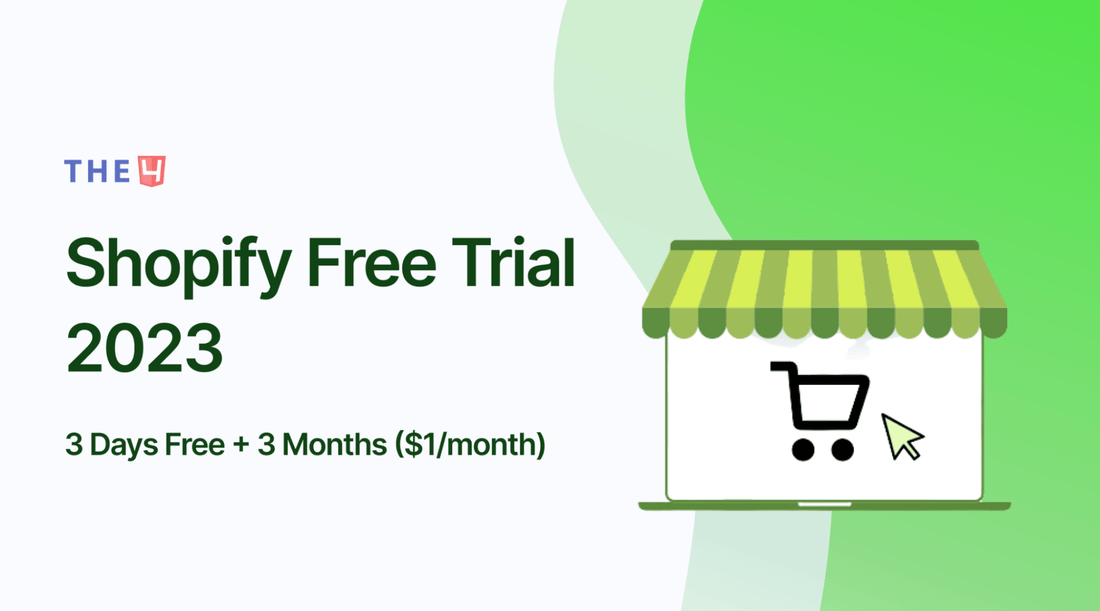 Welcome to our blog on Shopify Free Trial periods! If you're planning to start an online store, you should consider using Shopify as your platform of choice. It's one of the most popular eCommerce platforms with a lot of outstanding features. Its user-friendly interface, customizable templates, and powerful features make creating and managing an online shop a breeze. But before you commit to using Shopify as your eCommerce solution, you'll want to test the waters with a Free Trial. 
In this blog post, we'll be covering everything you need to know about Shopify Free Trial options, including how long they last, different Shopify Free Trial periods (14 days, 30 days, 60 days, 90 days, 120 days) available and what each tier offers. Hence, by evaluating various options, you can determine which one is the most appropriate for your specific requirements. Let's dive in!

Shopify is a leading eCommerce platform that enables businesses to create their online stores. It was founded in 2006 and has since grown to power over two million businesses worldwide (Statista, 2023). Shopify is known for its user-friendly interface and has a wide range of features that can be tailored to suit different businesses.
Shopify Free Trial 2023 (Get 90 Days Trial for $1)
Start by clicking on the sign-up link provided on the Shopify website. Once you're on the page, you'll notice a banner at the top that invites you to begin a 3-day free trial and subscribe to a 90-day extended plan for just $1.
Start 3 Months Trial Now!
What is Shopify Free Trial?
Shopify Free Trial is an offer for new users, allowing you to test out the platform's features and capabilities for a specified period without any cost. 
During the Free Trial period, you'll have access to most of the features that Shopify offers, allowing you to create and customize your online store. Specifically, you can set up your store, upload products, set up payment and shipping methods, and essentially get everything ready to sell. However, you can't sell products and process payments until you select one of Shopify paid plans.
This allows prospective store owners to understand how the platform works, experience its user-friendly interface and evaluate whether it's the right fit for their business needs before committing to a paid plan.
Claim Shopify 90 Days Free Trial with Only $1 [Newest Offer - Limited time]
Step 1: Sign up for a Shopify account
Firstly, sign up your Shopify Account here to be eligible for the offer. 



After sign up for a Shopify account, and you're in the Free Trial period, access your account then you can see notifications in the black box like this picture.
Step 2: Pick a Plan
- To choose a plan, access the "Select a plan" button located at either the top or bottom of the page.
- To take advantage of the offer, make sure you are subscribed to a monthly plan instead of a yearly plan. Look for the Basic Shopify plan, which is being offered at $1 for three months, and select it by clicking on the "Choose -plan-" button.
Step 3: Confirm the selected Plan & Subscribe
- Proceed to the billing page and verify your business address as well as the plan you have selected. Next, input your payment information using either a credit card or PayPal. After all details have been entered, locate the "Subscribe" button on the right-hand side of the page and click it to begin.
That's it. You've successfully subscribed to Shopify for $1/month in 3 months. Because you pay monthly, you can stop at any time without waiting until the end of the third month.
Looking at the detailed information here: Shopify 1 Dollar 3 months
Benefits of Signing up for the Shopify Free Trial Program
Shopify Free Trial is an amazing option if you want to experience an eCommerce platform with full functions.
- No Risk Exploration: With the Free Trial, Shopify users can explore the platform's features without making any financial commitment. It's an excellent way to understand if Shopify meets your specific business needs before committing to a monthly plan.
- Full Access: During the Free Trial, users have access to all of Shopify's core features. This includes product listings, sales channels, design customization, analytics, and more. It allows users to see the platform's full potential and how it can benefit their business.
- Store Set-up: The Free Trial period can be used to set up your online store. This means adding products, creating pages, setting up shipping and taxes, and designing the store's look and feel. You can have your store ready to go live by the end of the trial period.
- Testing Store Performance: It provides an opportunity to test your store in a live environment. You can share your store with a limited audience and gather feedback before fully launching.
- No Credit Card Required: Shopify does not require credit card information to start a Free Trial. This removes a barrier to entry and reinforces the no-commitment nature of the trial.
- Customer Support: Even during the Free Trial, users have access to Shopify's 24/7 customer support. Any questions or concerns can be immediately addressed, ensuring a smooth and rewarding trial experience.
How long is Shopify Free Trial in 2023? 
Officially Shopify Free Trial period
Shopify's standard Free Trial period is 14 days in the beginning. However, Shopify now shortens the offer, limited-time trials, which is a 3-day free trial only, as part of special promotions or deals.
During the Free Trial period, you can establish your store. However, to enable your checkout functionality, commence sales of your products or services, and eliminate your storefront password, it's necessary to subscribe to a monthly plan.
How to claim 3-Day Shopify Free Trial
- Step 1: Click on this link from The4 - Shopify Commerce Coach, enter your email address and select "Start Free Trial" 
- Step 2: If you're not prepared for a quick survey yet, simply press the "Skip" button.
- Step 3: Identify your business's physical location. Make sure to choose accurately, as Shopify tailors shipping rates and app suggestions based on where your store operates from. After that, hit the "Next" button.
- Step 4: Choose one option to create a Shopify ID
- Step 5: Select your preferred login credentials, and then you'll be directed to the Shopify admin dashboard.
Now you can try everything with your Shopify account without any cost.
How to extend Shopify Free Trial 
When 3 free day trial ends, you can not extend Shopify Free Trial. However, you can extend the Shopify Trial period to use the full features at a much lower price than the normal one of the plan. 
Let's discover all types of Shopify trials in the summary table below:
| Shopify Trial | Numbers of Trial Days | Still Valid in June 2023 |
| --- | --- | --- |
| 14-Day Free Trial | 14 | Not available, replaced by Shopify 3-Day Free Trial |
| 30-Day Free Trial | 30 | Not available |
| 60-Day Free Trial | 60 | Not available |
| 90-Day Free Trial | 90 | Not available |
| | 3 months | Available for Basic, Shopify & Advanced plan |
| | 120 | Available for Black-owned Businesses |
Shopify 14-Day Free Trial
Shopify used to offer a standard 14-day trial period for its services. However, this has been replaced with a new promotion that offers a 3-day Free Trial since November 2022. And there is no indication that Shopify will be reintroducing the 14-day trial period in the near future.
Shopify 30-Day Free Trial
In 2019, new merchants who signed up for a Shopify account were offered a 30-day Free Trial, but this was replaced with a 14-day trial. 
Shopify 60-Day Free Trial
In 2019, Shopify initiated an extensive marketing campaign through a group of chosen partners. As part of this campaign, the company provided Free Trial offers with varying durations to customers through these partners. One of these exclusive deals was a 60-day Free Trial of Shopify, which became available during the campaign period. However, as of 2023, this particular offer is no longer accessible to the public. It is uncertain whether Shopify will reintroduce the 60-day Free Trial in the future.
Shopify 90-Day Free Trial
In response to the COVID-19 pandemic, Shopify introduced a 90-day trial period for its platform to assist brick-and-mortar businesses in transitioning to the online space. As the pandemic subsided, Shopify reverted to its standard 14-day trial period on June 1st, 2020. 
Shopify 3-Months Trial
If you're interested in trying out Shopify for 90 days in 2023, there's good news. Starting November 9th, 2022, Shopify is offering a special promotion allowing users to test the platform for three days at no cost, followed by an additional three months for just $3. It means that you can enjoy 93 days in Shopify for only $3.
Shopify 120-Day Free Trial for Black-Owned Business
When a business is owned and run by individuals who self-identify as Black or have African ancestry, it is considered a Black-owned business. Typically, the term "Black-owned" is used to describe businesses in which Black individuals or a Black-owned entity hold the majority ownership of 51% or more. This definition helps to clarify what is meant by the term "Black-owned."
Shopify is currently promoting the growth of Black-owned businesses by providing a 120-day Free Trial to eligible merchants who self-identify as members of the Black community. This offer is still available as of 2023.
How to get the most out of your Shopify Free Trial
Shopify offers various features to help you create and manage your online store. When you sign up for the Free Trial period, you have an opportunity to learn about these features and how they can benefit your business. Here's some advice on how to take full advantage of your trial period.
- Add products and their details to make sure they look good on your online store.
- Create collections to organize your products.
- Set up Shopify Payments or check if your preferred third-party payment provider is supported by Shopify.
- Explore the Settings page in your Shopify admin to configure taxes, shipping, and other sales channels.
- Browse the Shopify Theme Store and App Store to find inspiration for your store's design and additional apps to enhance its functionality.
Create a Shopify Store using a Shopify Free Trial account
Building an online store in Shopify to test is essential if you want to sell on this platform. Checking out the comprehensive guide here to create a complete Shopify store: How to create a Shopify store
Leverage Shopify Page Builder App - EComposer
Shopify App Store includes a lot of Shopify apps to support users in operating time such as page building, analytics, rating & reviews, product customization, etc. During the trial time, you can install some best apps to try their features. However, adding many apps to your Shopify stores may affect your Store's performance. It's better if you find an app with various functions. EComposer Landing Page Builder is an optimal choice. 
EComposer is an all-in-one app for designing professional online stores. With this powerful page builder, you can create any type of page (landing page, homepage, product page, shopping cart page, collection page, etc) with ease, thanks to the extensive library of premade layouts and templates. And with its product customization features, your customers can personalize their purchases like never before.
But that's not all - EComposer also comes equipped with advanced features such as an analytics tool, AI content generator, Global Blocks, and more.
This page also includes a range of built-in add-ons. Especially, EComposer provides an outstanding feature which can increase the conversion rate. That is the Shopping Cart page to streamline the checkout process. And if you ever need assistance, a user-friendly interface and powerful drag-and-drop editor make it easy for you to get the results. Plus, the 24/7 live chat support is always available to answer any questions you have.
Furthermore, EComposer integrates seamlessly with many top apps in Shopify, allowing you to enhance your store's functionality even further. So what are you waiting for? Install EComposer FREE and start building your dream online store today!
How to get Unlimited Free Trials on Shopify?
As a Shopify user, you may be wondering how to get an unlimited trial without having to pay anything upfront. Luckily, there are a few ways you can achieve this goal.
- First, you can sign up for a Shopify partner account. By doing so, you'll have access to all of Shopify's features on the paid plans, including unlimited products, storage, and bandwidth. The only downside to this option is that your store will feature the "powered by Shopify" branding. With a Shopify partner account, you can create a development store. This type of store allows you to set up a fully functioning online store without paying any fees. However, keep in mind that anyone can see your store since it is publicly accessible.
- Besides, if you are a developer, you can use the Shopify API to create a custom app that gives you an unlimited trial. Although this option requires some technical knowledge, it can be highly rewarding if you're willing to put in the effort. 
With these options available, you can now explore Shopify's capabilities without worrying about the cost.
FAQs about Shopify Free Trial
Find the answers to some common questions about Shopify Free Trial here.
1. What happens after 3-Day Shopify Free Trial End?
There are two scenarios when your Shopify Free Trial comes to an end.
- Store-deactivation: Once your Shopify Free Trial period comes to a close (after 3 days) and you haven't picked any plan before, your store will be temporarily disabled and closed off to the public, meaning customers won't be able to access your store or execute any purchases. However, you'll still have the ability to access your Shopify dashboard and make edits to your store, although you can't accept any orders or payments.
To resume activity and keep selling, you must pick a Shopify pricing plan and input your billing details. Shopify presents an array of pricing plans to meet diverse business needs and budget constraints. Upon choosing a plan and providing your payment details, your store will be reactivated, and you're ready to start accepting orders once more.
Keep in mind that if you fail to reactivate your store within a specific timeframe, typically around 30 days, there's a risk that your account and store data could be irreversibly deleted. Therefore, be proactive and take necessary action within the allotted period to prevent losing your store data and having to start from scratch.
- Extend automatically: In case you've subscribed for a paid plan during Free Trial period; after 3 days, Shopify will automatically charge you for the subscription once the Free Trial ends.
2. When does the Shopify Free Trial time start?
Your Shopify Free Trial begins as soon as you sign up, not when you start building your store. 
3. Is it necessary to provide my credit card information for Shopify's complimentary trial period?
No. When you register for a Shopify Free Trial subscription, all you need to provide is your email address and agree to receive promotional emails from Shopify.
4. Can I make sales during Shopify trial?
Yes. You can sell your products on Trial Period if you subscribe to a paid plan. 
5. How to delete your Shopify account after the Trial?
The store will be frozen automatically once the Free Trial period ends if you haven't opted to add your credit card details to your account for a paid subscription. Hence, you do not need to go through any process to remove your Shopify account. 
However, if you've subscribed to a paid plan during the trial time, you need to cancel your subscription to avoid renewing. Follow the guide below to cancel your Shopify subscription.
- To cancel or pause your Shopify plan, navigate to Settings > Plan in your Shopify admin.
- Choose the option to pause your plan or start a new store, or proceed with deactivating your current plan by selecting "Cancel subscription and close store" or "Deactivate store".
- Provide a reason for the deactivation and enter your password to confirm.
- After deactivating your store, you will receive a confirmation email.
Your store's information is secure for 2 years, and you can still access past bills and reactivate your store at any time. You also have the option to reopen your store and pause your plan.
Note: You should export your store's data for further usage before cancelling your account.
6. How much does Shopify plan after the Trial?
Shopify offers various plans to fit different types of businesses. Depending on your business size & need, you will upgrade your Shopify store with one of these plans:
- Starter Plan: $5/month
- Basic Plan: $25/month (save 25% paid yearly)
- Shopify Plan: $65/month (save 25% paid yearly)
- Advanced Plan: $399/month (save 25% paid yearly)
- ShopifyPlus Plan: $2000/month
- Commerce Components Plan: Modular pricing based on component usage
When choosing a Shopify subscription, it's important to take into account factors such as your budgetary constraints, the scope of your business, and your desired outcomes.
Final thought
In a nutshell, navigating the eCommerce landscape can be daunting but with Shopify Free Trial options, the journey is significantly less stressful. These trials give you the chance to not just imagine but experience the transformation that your business could undergo. 
Remember, the trials span across 3 days and 3 months with only $1/month, so there's ample time to dive deep into the platform's potential. However, the most valuable takeaway is that these trials aren't merely time-limited access to Shopify; they're opportunities to grow, innovate, and succeed. 
So, take that first step, sign up for a Shopify Free Trial today, and propel your business into its bright eCommerce future.
Others also read
Shopify vs Squarespace: Which Is Better for Your Business?
Shopify vs WordPress: Which Is Better?
Shopify vs GoDaddy: Which Should You Use?
Shopify vs Magento: Which Is the Right Platform?
=================