Shopify Basic Plan: Everything You Need To Know About! (2023 Guide)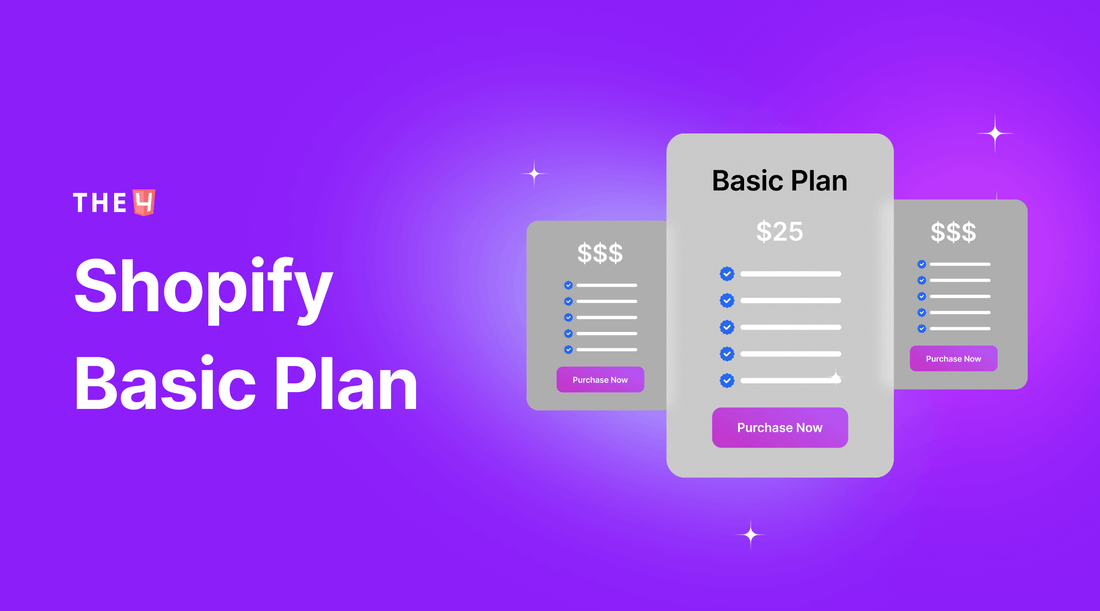 In the fast-paced and ever-evolving world of e-commerce, finding the perfect platform to launch and grow your online store is crucial. With many options available, one platform stands out as a beacon for entrepreneurs and small businesses alike - Shopify. 
The Shopify Basic Plan is an excellent place to begin if you're just starting your e-commerce journey or looking to streamline your existing online store. This entry-level plan offers an array of essential tools to provide a solid foundation for your business without breaking the bank.
In this comprehensive guide, we'll take you through all the critical aspects of the Shopify Basic Plan, from its features and pricing to its suitability for different types of merchants. Before going into the details, make sure you have built an eCommerce store on Shopify!
What is Shopify Basic Plan?
Shopify Basic Plan is one of the fundamental pricing plans offered by Shopify, a leading eCommerce platform renowned for its user-friendly approach and extensive features. Designed with small merchants in mind, this plan is an ideal starting point for aspiring entrepreneurs and businesses seeking to establish their online presence.
With the Shopify Basic Plan, merchants can access a fully functional Shopify store with essential eCommerce capabilities. It is a comprehensive toolkit to launch and manage their online business efficiently. Whether you're an individual seller, a small boutique, or a growing startup, the Basic Plan provides the tools to sell products online and offline on a manageable scale.
Now, let's dive in its highlight features.
Shopify Basic Plan Features
Shopify Basic Plan has the same basic features as other Shopify plans, such as Unlimited products, Unlimited bandwidth, Brand assets, Fraud analysis, Manual order creation, Discount codes, Abandoned cart recovery, etc. 
Besides, Shopify Basic Plan also owns its own outstanding features. Take a look at this section:
Online store
When you subscribe to Shopify's Basic plan or any higher tier, you unlock the power to create your online store tailored to your unique brand and products. With its user-friendly interface and various powerful tools, Shopify makes setting up and managing your store a breeze.
You can choose between 150+ themes available on Theme Stores (including 11 free ones). Among these options, you'll find 11 free Shopify themes available in the Shopify Theme Store. These themes are professionally designed and optimized to ensure an excellent user experience for desktop and mobile visitors.
Consider popular themes like Kalles, Gecko, Unsen, Ocolus, and more, each presenting distinctive designs and functionalities perfectly suited to your needs.
Whether you customize a theme or opt for one from the Theme Store, Shopify's interface ensures that the entire process remains intuitive, even for beginners. 
Read more: Top 21 Best Shopify Themes
Blogs
Aside from having a fully functional online store, the Shopify Basic plan has a powerful blogging engine. This feature empowers you to go beyond just selling products and allows you to connect with your audience on a deeper level.
Your blog's commenting and feedback system allows for direct customer interaction. This two-way communication lets you gather valuable insights, address customer queries, and receive feedback on your products or services. Engaging with your audience in this manner can foster a sense of community around your brand and create loyal customers who feel heard and valued. 
Staff Accounts
One of the notable advantages of the Basic Shopify plan is the ability to add two staff accounts to your store. As your business grows, you may need to delegate tasks and responsibilities to trusted team members or collaborators. The inclusion of staff accounts facilitates smooth store management and streamlines your operations.
SSL certificates
Security is paramount when running an online store, especially when handling sensitive customer information such as personal details and payment data. The Basic Shopify plan includes SSL certificates to ensure a secure server and browser connection, providing you and your customers peace of mind.
When you enable SSL certificates provided by Shopify, your online store's URL will display as "HTTPS" instead of "HTTP." The "HTTPS" signifies a secure connection, and visitors to your store will notice a padlock icon in the address bar. This visual cue reassures customers that their data is being transmitted safely, which can significantly enhance trust and confidence in your store.
Reports
To make informed business decisions and monitor the performance of your online store effectively, the Shopify Basic plan offers a robust reporting system that provides valuable insights into various aspects of your business.
Some critical reports available to you include:
- Financial Reports: Keep track of your store's finances with detailed reports on sales, taxes, and payments. 
- Product Analytics: Gain deep insights into your products' performance. 
- Acquisition Reports: Analyze the traffic sources to your store, such as search engines, social media platforms, or referral links. 
- Inventory Reports: Stay on top of your inventory levels with reports on product stock and variations. 
- Behavior Reports: Understand how visitors interact with your store, including browsing patterns, cart abandonment rates, and conversion rates. 
- Marketing Reports: Measure your marketing efforts' ROI and identify improvement opportunities.
- Live View: Get real-time insights into what's happening in your store at any given moment. 
International commerce
The Basic Shopify plan offers access to Shopify Markets, a powerful eCommerce management tool for international growth. With multi-currency and multi-language support, you can reach customers worldwide, displaying prices in their local currency and presenting content in their preferred language. 
This seamless global experience breaks down barriers and opens doors to new markets, empowering your business to thrive internationally.
Shopify Shipping Discount
With the Basic Shopify plan, you can access Shopify Shipping, a cost-effective shipping solution. Benefit from significant discounts on shipping rates from major carriers and the convenience of printing bulk shipping labels. 
Real-time rates and streamlined shipping processes ensure an efficient and budget-friendly shipping experience, enhancing customer satisfaction and saving time and money.
How Much is Basic Shopify Plan?
The Shopify Basic plan is priced at $25 per month in the United States (pricing may vary in different regions). From November 2022 onwards, Shopify even offers a special promotion of $1 per month for the first three months with the Basic plan. 
Additionally, you can try out the Basic Shopify Plan with a 3-day free trial. This trial lets you experience the plan's features and determine if it fits your online store.
Read more: 
Everything about Shopify Plans and Pricing (Newest 2023 Guide)
Shopify Free Trial: 14 days, 30 days, 90 days, 120 days
$25 per month is the price excluding transaction fees. There are 2 types of Shopify Basic transaction fees: Transaction fees with Shopify Payments and Transaction fees without Shopify Payments.
1. Transaction fees with Shopify Payments
With the Shopify Basic Plan, you will be charged a transaction fee of 2.9% + 30¢ per sale, and you won't need to pay any additional fees from your payment gateway providers.
Moreover, if you use Shopify Payments, the 2% transaction fee that Shopify would typically apply on each sale will be waived. However, there will be an additional 1% transaction fee for purchases made by credit cards outside the United States.
You can streamline your transaction fees and optimize your eCommerce sales by using Shopify Payments and the Shopify Basic Plan
2. Transaction fees without Shopify Payments
Opting for a third-party payment gateway provider instead of Shopify Payments will result in transaction fees. For the Shopify Basic Plan, third-party payment gateway services will incur a 2% credit card fee.
Additionally, you will still be required to pay transaction fees to your chosen gateway provider. Moreover, purchases with credit cards issued outside the United States will attract an additional 1% fee.
Remember these considerations while deciding on the payment gateway for your Shopify Basic Plan to ensure transparency and efficiency in managing transaction costs.
Shopify Basic Plan Comparision
Shopify Basic Plan vs. Shopify Plan
| | | |
| --- | --- | --- |
| Features | Shopify Basic Plan | Shopify Plan |
| Monthly Fee | $25 | $65 |
| Transaction Fees | 2.9% (with Shopify Payments) | 2.6% (with Shopify Payments) |
| Staff Accounts | Up to 2 | Up to 5 |
| SSL Certificates | Yes | Yes |
| Advanced Reports | No | Yes |
| Shopify Flow | No | Yes |
| Abandoned Cart Recovery | No | Yes |
| Gift Cards | No | Yes |
| Third-Party Calculated Shipping Rates | No | Yes |
To sum up: 
The Shopify Basic Plan can be a more favorable choice for newcomers to the Shopify platform, allowing them to explore the eCommerce platform without high initial costs.
On the other hand, the Shopify Plan offers the added advantage of Shopify Flow, a powerful tool that revolutionizes eCommerce businesses. With Shopify Flow, you can optimize your operations, both within your store and beyond, leading to a more automated and efficient eCommerce website, reducing the need for manual work and minimizing errors.
Shopify Basic Plan vs. Shopify Lite Plan 
| | | |
| --- | --- | --- |
| Features | Shopify Basic Plan | Shopify Lite Plan |
| Monthly Fee | $25 | $9 |
| Online Store | Yes | No |
| Built-in Theme Editor | Yes | No |
| Number of Themes | Up to 20 | N/A |
| Blogging Engine | Yes | No |
| SSL Certificate | Yes | No |
| Financial Reports | Yes | Yes |
| Shopify Flow | No | No |
| Abandoned Cart Recovery | No | No |
| Gift Cards | No | No |
| Third-Party Calculated Shipping Rates | No | No |
To sum up:
The key distinction between Shopify Lite and Shopify Basic is that Shopify Lite allows you to sell exclusively on Facebook and Instagram, whereas Shopify Basic offers the flexibility of having a fully customizable online store. 
Who is Shopify Basic Plan suitable for?
Affordable Stand-Alone Store Solution Merchants 
The Shopify Basic plan is ideal for merchants venturing into eCommerce. This option offers essential features suitable for various business models, including drop shipping, print-on-demand, services, and retail.
Moreover, Shopify Basic enables you to activate numerous sales channels, ensuring your eCommerce business seamlessly integrates with multiple social media platforms, other eCommerce platforms, and search engines.
Low Sales Volume Merchants
The transaction fee for the Shopify Basic Plan is 2.9%, which can become significant for your cost structure if you have substantial sales volume.
To minimize credit card processing fees, merchants should use Shopify Payments. However, upgrading to higher Shopify pricing plans can help lower your overall transaction fees.
FAQs
1. Does the Shopify Basic Plan offer free Hosting?
Yes, the Shopify Basic Plan and all plans except Starter include secure and unlimited eCommerce hosting. You don't need to worry about finding separate hosting for your online store, as Shopify already provides. Additionally, you can integrate eCommerce using Shopify's Buy Button feature if you have an existing website.
2. Can I use my own domain name with the Shopify Basic Plan?
Yes, You can use your domain name with the Shopify Basic Plan. Shopify allows you to either purchase a domain name directly through their platform or use an existing domain name that you already own. This flexibility gives you a personalized and branded web address for your online store.
Additionally, when you sign up with Shopify, you will receive a free domain name in the format "myshopify.com," which will be yours to keep forever. This domain can be used as a temporary option or as a backup if you still need to choose a custom domain.
3. How much does Shopify charge for the bandwidth with the Shopify Basic Plan?
The Shopify Basic Plan offers unlimited bandwidth for free. With this plan, you do not need to pay any additional charges for bandwidth usage. This means you can have unlimited data transfer between your online store and its visitors without incurring any extra fees.
In a nutshell
Overall, the Shopify Basic Plan serves as a solid foundation for your eCommerce journey, offering the necessary resources and functionalities to launch and thrive in the competitive online market. As your business evolves, you can always explore higher-tier plans and tap into Shopify's ever-expanding ecosystem of tools and features.
Remember, whether you're just starting or scaling your business, Shopify continues to be a trusted partner, empowering you to turn your entrepreneurial vision into reality. If you want more information or want to learn more information about EComposer and The4 products, follow us at ecomposer.io and the4.co.
=================
Add EComposer Next generation page builder Here.
Follow Us on Facebook
Join Official Community
Open a New Shopify store with Newest Exclusive discounts.