18+ Best Shopify Free Apps for Your Online Store in 2023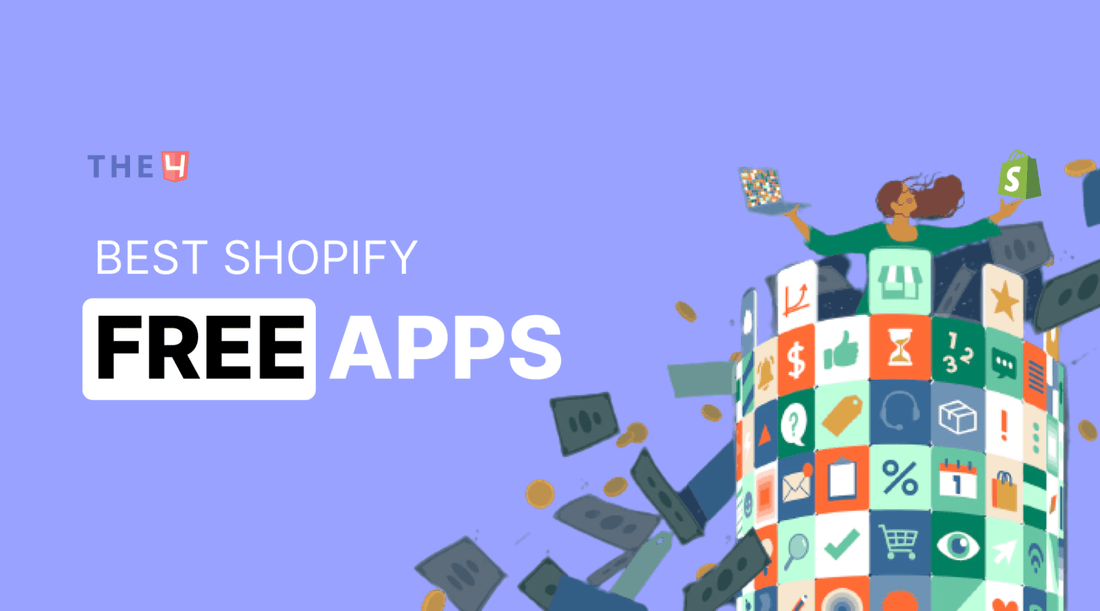 Many businesses have had to spend large amounts of money on applications to develop and upgrade their Shopify stores. That's because they don't know that Shopify is a platform with +8000 apps, half of which are free. It is easy when you want to find a free application in Shopify, but whether that application is perfect and helps you in the process of building and growing your Shopify store is a dilemma. 
Don't worry; we've helped you learn and experience a lot of apps. In this blog, we have compiled 17+ Shopify Free Apps You Must Try. 
Build an e-commerce store on Shopify if you haven't already and find the free app that works best for your Shopify store.
1. EComposer - Free Landing Page Builder app
Topping this list is EComposer - Landing Page Buider. It is known as the new generation Shopify application that allows customers to create professional Shopify stores without knowing the code. Many themes and building blocks are available in EComposer to assist you in making any type of page, including some that are not offered by Shopify.
You are free to design Landing Pages, Home Pages, Product Pages, Collections, Blogs, and any other regular pages using the EComposer (FAQ, Contact Us, About, Coming Soon Page, and so on). In addition, you can completely create your own style pages because EComposer provides you with Section Builder functionality which allows customizing a specific section that your theme does not support and then mix them easily. This feature will provide users with a variety of exciting experiences while also saving them as much time as possible.
Live drag-drop editor helps users visualize your page while building it using tons of elements. And if you want to combine different templates/sections, just copy and page everything. 
Feature highlights: 
EComposer is famous as a new-generation page builder app with many outstanding and unique features.
Visual page builder

- EComposer has a drag-and-drop editor in real-time, so you can easily create and modify pages.

Design & Customization

- All pages, such as landing page, home page, product page, collection page, and others, are accessible for design and customization.

Largest templates library

- when using EComposer, you will have 190+ section layouts and a large collection of elements that keep adding up over time.

Countless extensions - Users may easily implement a variety of business concepts. At all price points, cross-sell, back-in-stock, and other features are free to use.
Section Builder

- Users are allowed to make as many categories as they like, which they can then drag into the installed theme of the store

SEO and Speed performance

- EComposer is a page builder with SEO optimization that loads pages more quickly and has options for adding custom titles, meta descriptions, and social media images.
Pricing & Plans: 
* With Free plan, EComposer gives you all the features you need when start building a store:
Publish 3 Pages

Create 10 templates

Build Landing Page, Home Page, Product Page, Collection Page, Blog Page, and Standard pages

Premade +65 pages and +200 sections

Google Fonts

Live Editor

Element Presets

Save to My Template
* With Paid plans, if your usage needs are higher, you need more live pages/templates or advanced features you can refer to the following EComposer pricing plans:
From only $19, you can own many interesting features and the number of pages created up to more than 15 pages. Click

here

to learn more!
Rating & Review: 5.0/5 (956 reviews)
See more Shopify Landing Page Builders!
2. Fontify: Free Google & Custom Fonts
The most popular font-changing software for Shopify stores is Fontify: Google & Custom Fonts. For your website's components, you may use a variety of Google fonts as well as custom fonts. Simply choose and sample a font before using it from the app's available selection of more than 1000 Google fonts. Additionally, you may upload any Custom fonts to Fontify and have them be beautifully applied to the parts of your page. Additionally, live chat assistance is always accessible to assist you.
Feature highlights: 
Change any Google Fonts in a minute, 100% GDPR compliant

Upload any Custom font you want easily and quickly

Allows the font to be applied to the entire site or to a particular element

Compatible with all Shopify themes & apps: The4 themes, EComposer, etc.

Support multiple languages (Separate fonts for each language)
Pricing & Plans: 
Free to install -

Free all Google fonts, $10/15 first Custom fonts, $5/10 fonts from 16th Custom font (onetime charge)
Rating & Review: 4.9/5 (755 reviews)
[ecom-global-block]ecom-shopify-trial-block[/ecom-global-block]
3. The4 Toolkit - Free Compare & Wishlist app
You may activate the Compare and Wishlist capabilities for The4 themes like Unsen, Kalles, Basel, Gecko, etc. using The4 Toolkit. Your online consumers may now quickly add their favorite goods to a wishlist or compare them before coming back to them at a later time. The4 Toolkit may significantly improve customers' shopping experiences and increase revenue.
Feature highlights: 
Low impact on your online store.

Simple and easy to set up and use.

Save Compare & Wishlist to the customer's account.
Pricing & Plans: Free
Rating & Review: 5/5 (8 reviews)
4. UpPromote - Free Affiliate & Referral app
The top recommended Affiliate/Referral Marketing Application for Shopify. UpPromote emerges as the comprehensive all-in-one remedy for affiliate marketing, encompassing every essential facet. With UpPromote, you have the ability to generate professional affiliate campaigns, complemented with professional-grade tools such as real-time data analysis and referral order tracking, ensuring an ease and efficient campaign management.
Feature highlights
Easy-to-use: Easy to use interface and customizable experience for each and every businesses

Management: Unlimited affiliate programs management with different commission tiers and more awesome features

Growth: Convert customers, Multi-level Marketing (MLM), Gift and Coupon features

Tracking: Detailed report of affiliates' performances (clicks, orders, sales)

Customer support: 24/7 of excellent customer support services
Pricing & Plans
Free trial available 

Growth plan: $ 29.99 / month

Professional plan: $89.99 / month

Enterprise Plan: $199.99 / month
Rating & Review:
4.9/5 (2,706 reviews)
5. Avada Trust Badge, Sale Pop‑up
With Avada Trust Badge, Sale Pop‑up, achieving the revenue target, fostering a sense of urgency to seize value, and providing amazing marketing popups may be simpler than you think. By using a variety of sale kits, promo bars, product labels, and motivators, you can give your business a more polished appearance.
Feature highlights: 
Sales popup: to upsell, cross-sell, bulk sales. Promotion bar, free shipping bar

Urgency: countdown timer, sales ending soon, pop-up windows, sales timer notice

Build trust: trust badge, content protection, trust site, trust icons, trust me

Livechat widget: contact popup, admin, FOMO, coming soon, email pop up

Sticky Add-to-cart & Inactive Tab: sticky bar, dropshipman, conversion, coupon
Pricing & Plans: Free
Rating & Review: 5/5 (2251 reviews)
6. Printful: Print on Demand
Printful: Print on Demand is a print-on-demand dropshipping vendor prepared to assist you at every turn and handle tedious tasks (you know, like fulfillment). Your items will be printed, packaged, and sent to your clients by t. It's time for you to regain complete control over your thoughts, schedule, and finances. Use Printful to launch a new online venture or grow an existing one.
Feature highlights:
Free registration and simple setup. Connect to Printful to get going selling right away.

Simple design tools allowing you to upload or develop your own designs.

No up-front or concealed fees. Pay only after receiving an order.

Product quality that would entice buyers to buy more.

Personalized branding on packaging, pack-ins, packing slips, and other materials.
Pricing & Plans: 
* Free plan: 
Everything you need to run an eCommerce store

Premium products you can customize

Built-in design tools
* Paid plan: 
Plus plan -

$9/month

Pro plan -

$49/month or $539/year and save 8%
Rating & Review: 4.6/5 (4179 reviews)
7. Avada GDPR/CCPA Cookie Consent
If online merchants wish to track and use EU visitors' data on your website, they must seek that visitor's consent in accordance with Avada GDPR/CCPA Cookie Consent. Therefore, AVADA Cookie Bar is for you if you offer goods to clients in the EU. The software makes it simple to obtain customers' permission to use their personal information and guarantees that you are in compliance with the GDPR European Cookie Law.
Feature highlights: 
10+ pre-designed cookie bar themes

Display the cookie bar's privacy policy link dynamically based on the user's location

Highly adjustable cookie bar (different desktop placements, button wording, and color)

Before posting, check out the cookie bar on desktop, mobile, and shop.

After the client gets approval, instantly hide the cookie banner
Pricing & Plans: Free
Rating & Review: 5/5 (428 reviews)
8. Kakaclo - Dropshipping
The most expert dropshipping and customizing services are offered by Kakaclo - Dropshipping, which has a factory of its own and an integrated supply chain. You can develop a thriving business with everything you need in it.
Feature highlights: 
ENTIRELY FREE: No Transaction Fees! No Monthly Payments!

Hassle-Free: Automatically place Dropshipping orders

Over 1,000,000 SKUs Available and update on a daily base.
Pricing & Plans: Free
Rating & Review: 4.9/5 (241 reviews)
9. Omnisend - Free Email Marketing & SMS app
Omnisend Email Marketing & SMS is one of those email marketing apps that you need to install for your Shopify store. With Omnisend's outstanding features, you can collect emails, nurture leads and improve guest marketing activities with ease. Moreover, this application also helps you to cover the entire sals funnel, build lists, retain customers, and quickly increase sales.
Feature highlights:
Send SMS campaigns, newsletters, and email marketing. begin with 500 free emails every month.

Expand your email lists using popups that include sign-up forms, exit-intent, and spinners. 

Holiday-ready email designs that are mobile-responsive and user-friendly

Automate checkout reminders, recover abandoned carts via email and SMS, and more.

20+ ready-made marketing automations to automate and customise messaging
Pricing & Plans:
* Free plan: 
500 emails/mo & up to 60 global SMS

Professional Email Templates

Popups & Signup Forms

Pre-built Workflows & Automations

24/7 Live Support
* Paid plan: 
Standard -

$16/month, Reach up to 500 contacts (unlimited list size). Upgrade as you grow.

Pro

- $59/month, Reach up to 2500 contacts (unlimited list size). Upgrade as you grow.
Rating: 4.8/5 (4734 reviews)
10. Smile: Free Loyalty & Rewards app
Smile: Loyalty & Rewards, which has more than ten years of expertise in loyalty, referrals, and VIP, provides incentive programs that help raise sales and repeat business, lower acquisition costs, and foster more brand loyalty. Smile is simple to set up and manage, but if you need assistance, a team of specialists is available around-the-clock to assist you with any inquiries you might have, from technical issues to advice on the best rewards and loyalty programs for your company.
Feature highlights:
Customize the rewards launcher, panel, and emails to match your brand aesthetic

Encourage repeat purchases by allowing guest shoppers to earn and redeem points

Integrate with all your favorite apps for email, reviews, and customer service

Remind customers of their points & referral link with Nudges to boost engagement

Auto-translate your entire loyalty program to one of our 6 preset languages
Pricing & Plans:
* Free plan:
Points program

Referral program

Basic branding

Default reward emails

Analytics overview

Up to 200 monthly orders
* Paid plan: 
Starter plan -

$49/month

Growth plan

- $199/month

Pro plan

- $599/month
Rating: 4.8/5 (4833 reviews)
11. ROAR: Terms and Conditions Box
When you add a terms and conditions checkbox to the cart page using ROAR: Terms and Conditions Box, the consumer will be prompted to choose it before continuing with the checkout. A warning message with your own unique content will appear and stop customers from proceeding with the checkout if they don't check the box before hitting the checkout button. The app will update the line information in the order's "Additional details" section with the date and time the consumer checked the box and accepted your terms and conditions.
Feature highlights:
Add a checkbox to your cart that customers must check before the checkout

Popup will show if there has no available checkbox

Visualization tool to select the place where you would like to show the checkbox

Various skins for the checkbox with animation that will attract your customers
Pricing & Plans: Free
Rating: 4.9/5 (318 reviews)
12. Tidio ‑ Free Live Chat & Chatbots app
Tidio ‑ Live Chat & Chatbots is a platform for the customer experience that helps online retailers to deliver top-notch customer support and convert inactive customers into active consumers. It features ready-to-use sales and support chatbots that boost sales and promptly respond to your customers' most frequent queries. Tidio is an easy-to-use helpdesk solution for your team since it allows you to manage all of your client communications in one location.
Feature highlights:
Engage in live chat with visitors to swiftly resolve issues and make proactive sales.

Apply pre-made chatbot techniques to address issues and boost sales

Preview shopping carts, examine order history, and make product recommendations in-chat

Click Add App to add Tidio to your Shopify store in only 30 seconds.

Utilize a straightforward ticketing system to manage and satisfy consumer demands.
Pricing & Plans: 
* Free plan: 
Live Chat - conversations with 50 users

3 chat operators (only free plan)

Chatbots: with up to 100 visitors/mo

Visitors list

Mobile app 
* Paid plan: 
Communicator plan - $19/month

or $190/year and save 17%, Extra operator seats start at €15.83 per month.

Chatbots plan - $39/month

or $390/year and save 17%

Todio plus - $289/month

or $2,890/year and save 17%, The plan configuration you choose will determine the ultimate cost.
Rating: 4.7/5 (1562 reviews)
13. Instafeed ‑ Free Instagram Feed app
Using Instafeed ‑ Instagram Feed, you can easily and accurately integrate straightforward, eye-catching Instagram feeds into your business. Instagram content, such as photographs and Reels, may be shown on your website to help you build social proof, convert visitors into buyers, and attract new Instagram followers. Mintt - Instafeed may leverage your Instagram posts to automatically route fresh new content to your business.
Feature highlights: 
Show posts (photos, Reels, videos) in a grid or slider layout (squares or tiles)

Customize layout manually or automatically to store visitors' screen resolution

Custom rows and columns for mobile

Tag multiple products on your posts - create shoppable Instagram feeds

Filter your posts with hashtags
Pricing & Plans: 
* Free plan: 
Video support

Grid or slider layout

Auto-optimized layout

Open a popup or link to Instagram

Available on all devices and themes
* Paid plan:
Pro -

$5.99/month

Plus -

$17.99/month
Rating: 4.9/5 (3052 reviews)
[ecom-global-block]ecom-shopify-commerce-coach-block[/ecom-global-block]
14. Judge.me Free Product Reviews app
Judge.me Product Reviews is a 37-language, quick-loading, completely customizable review software. Schedule automated emails to be sent out once an item has been completed or delivered to get feedback. You can also import photographs and videos from other applications. You may boost conversion rates by including user reviews and user-generated content (UGC) in your storefront widgets, sharing them on social media, and adding stars for Google SEO. You may customize the widget's wording, colors, and themes or contact our round-the-clock support staff to make quick design changes. Setup is easy and tailored to your shop.
Feature highlights: 
Unlimited email review requests with photo and video, and in-email review forms

Display star ratings, store and product reviews, trust badges, reviews carousel

Share reviews on Facebook, Instagram, Twitter, rich snippets and Google Shopping

Synchronize and group product reviews across different products and stores

Engage your reviewers with Q&A, coupons, and email marketing integrations
Pricing & Plans: 
* Free plan: 
Unlimited product review requests

Photos & videos

Review carousel themes

In-email reviews

Curate reviews

SEO snippets

Manual social push
* Paid plan: 
- Awesome - $15/month
Rating: 5/5 (12376 reviews)
15. Hextom: Free Shipping Bar
Free Shipping Bar displays progressive messaging to inform customers how much more they must buy to receive free shipping as they add more items to their shopping carts. The average order value increases as a result of the increased sales. The bar is fully customizable thanks to complex targeting options like geolocation, customer, page, etc. To increase sales, you might provide several free delivery alternatives to customers in various countries.
Feature highlights:
Display messages with progressive shipping goals, and boost sales

Advanced targeting geolocation, customer, page, product, and device targeting

Scheduling, you can plan free shipping in advance for events like Black Friday

Fully customizable & supports all pages, 1-click to enable, no coding required

Automatically determine the local currencies of visitors and convert the free shipping amount.
Pricing & Plans:
* Free plan: 
Fully customizable banner

Display at any desired position

Device targeting

Page Targeting

Option to add a link to the bar

Emoji support on the bar
* Paid plan: 
Premium plan - $9.99/month

or $99/year and save 17%
Rating: 4.9/5 (10973 reviews)
16. Rivo Product Reviews App & UGC
An app called Rivo Product Reviews App & UGC rewards users with special discounts in return for their reviews of their purchases. Additionally, it solicits product reviews from your clients via email once they get their orders. In order to persuade potential consumers to make a purchase, Rivo additionally boosts social evidence by automatically adding social proof to your product pages.
Feature highlights:
Collect photo reviews and ratings through a modern on-page popup form

Build credibility by showing reviews with a beautiful pinterest-style photo grid

Send automatic post-purchase review request emails so customers can review

Offer an automatic or manual discount code as an incentive for leaving a review

Fully customizable app branding to suit your website look & feel
Pricing & Plans: Free
Rating: 5.0/5 (590 reviews)
17. Globo Product Options, Variant
You may build an endless number of product alternatives using Globo Product Options, Variant. Additionally, it motivates customers to customize their purchases, which boosts sales. Using a variety of configurable option selections, let customers create their own unique items. Use a specific option specified on the applicable items. Your consumer will be content to pay a tiny premium for a customized choice in order to receive the best possible product.
Feature highlights:
Text input field, file upload, color swatch, variant image, dropdown, checkbox

Add-on price - Additional cost when your customer chooses a product variant

Conditional logic: Show/hide relevant options depending on the previously select

Import & Export product variants by CSV file. Complete product customizer tool.

Apply an option set to either all products or group products
Pricing & Plans: Free
Rating: 4.9/5 (828 reviews)
18. In Cart Upsell & Cross Sell
Using In Cart Upsell & Cross Sell, you can make it as easy as possible for your customers to purchase products once they have purchased relevant products from your store. This helps you quickly increase sales and generate a great source of leads. Besides, when your consumer has made a purchase at your business, this app also delivers the ideal supplementary product at the correct moment, in the perfect location.
Feature highlights:
AI AUTOSUGGEST - Automatically recommend the product your shopper will likely buy

CUSTOMER TAGS - Show or hide up-sells and cross-sells based on a customer's tags

DISCOUNTS - Apply a discount or BOGO offer. Works natively with the Shopify feature

ADVANCED TARGETING - Target based on location, cart content, or order amount

A/B TESTING BUILT IN: Create 2 versions of upsells & offers will send to the winner
Pricing & Plans: 
* Free plan: 
1 upsell/cross-sell offer included

Free installation & email tech support

Includes "Powered By In Cart Upsell" branding on offer box
* Paid plan: 
Shopify basic - $19.99/month

 Shopify standard - $29.99/month

 Shopify advanced - $59.99/month
Rating: 4.9/5 (837 reviews)
Wrap up
Above are +17 Shopify Free Apps that we recommend you to save and try. Some applications are suitable or not suitable for your Shopify store. Please consider, try and make the best decision!
Shopify is a huge e-commerce platform and there will be a lot of free apps created in the future, but for now, we are sure that the above applications are the best.
Please don't hesitate to leave your thoughts in the comment box below this blog. Alternatively, you can also contact us via The4 Official Site or chat with us directly via EComposer If you have any questions.
=================
Add EComposer Next generation page builder Here
Follow Us on Facebook
Join Official Community
Related Post