How to start Shopify Dropshipping with no Money? 2023 Guide!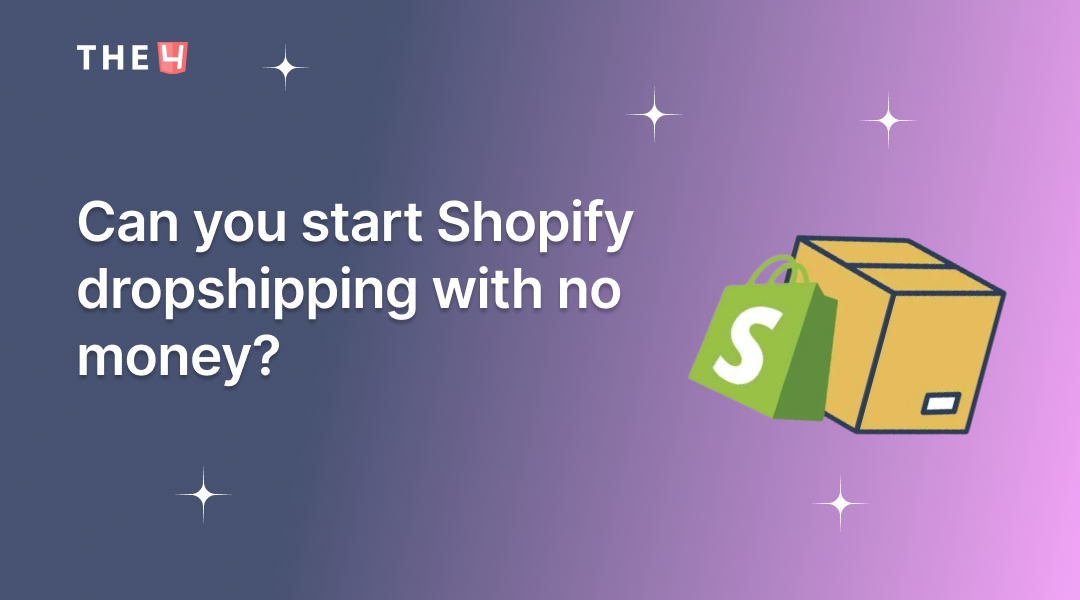 Curious about beginning a dropshipping venture without any capital? Anyone can launch a successful dropshipping business with solid dedication and a limited budget.
In this article, we'll explore the strategies and steps you can employ to start Shopify dropshipping with no money.
What is dropshipping?
Dropshipping is a retail model where the seller doesn't hold inventory.  Instead, when an order is received, the drop shipper forwards the order details to a third-party supplier, who then directly ships the product to the customer.
The seller generates income by applying a markup to the wholesale price of the products acquired from the supplier.
The fundamental dropshipping model enables you to market and sell products online without physically storing inventory. Achieving success in dropshipping relies heavily on effective product research and marketing strategies.
Can you begin a dropshipping business without money?
In principle, it's feasible to drop shipping without any initial funds. However, in a more practical context, the optimal setup for success typically involves possessing essential equipment like a computer, an internet connection, and a small amount of starting capital.
Several strategies exist to initiate a new business, even without money. You can make the most of free trial offers and opt for cost-free alternatives whenever they are available.
Dropshipping With No Money: Advantages & Disadvantages
How to Initiate Free Dropshipping? Commencing a cost-free dropshipping venture entails a comprehensive understanding of its advantages and potential challenges:
Dropshipping Advantages
1.1. Time and Effort Savings
Establishing a physical store involves significant time and effort, from securing a space and hiring employees to setting up a shop. Undertaking these tasks single-handedly can be overwhelming. Conversely, launching an accessible dropshipping business offers efficiency and simplicity. Communication with vendors worldwide is easily facilitated through messaging platforms like Skype, Viber, or email.
1.2. Risk Mitigation
Warehousing comes with substantial expenses. With drop shipping, you can initiate your venture without inventory, immediately generating revenue instead of investing heavily in inventory with no guaranteed sales. Dropshipping permits agile, convenient, and cost-effective inventory updates without the constraints of physical stock and associated expenses.
1.3. Low-Cost Commencement
There are no initial charges for inventory or the need for a warehouse to store your merchandise. Furthermore, as the products are sourced directly from your suppliers, you can circumvent expenses related to shipping and packaging.
Dropshipping Disadvantages
2.1. Supplier Dependence
Suppliers oversee product storage, packaging, and delivery, leaving you unable to inspect items before they reach your customers personally. Consequently, your brand assumes full responsibility for any product issues, such as those related to expiration dates, which can occur due to supplier errors. It's a downside that should be anticipated.
2.2. Intense Competition
Identifying profitable dropshipping niches becomes more challenging due to the market saturation of dropshippers like yourself. Moreover, early entrants have already saturated nearly all markets and product categories. You'll need to invest significant time and effort in extensive market research and creative brainstorming to stand out.
How to start Shopify dropshipping with no money in easy steps
Want to start a dropshipping business without spending any money? Here's everything you need to know to use free options and set up your store for your dropshipping journey without investing any cash.
Pick a selling platform.
You need a platform to host your store. After all, how can customers buy from you if you need to provide them with a place to shop? It may seem common sense, but several platforms are available for starting a dropshipping business without any initial investment. 
Sign up for a  Shopify free trial and get 3 months for $1/month on select plans. Unlike other free trials, when signing up for Shopify, you are not required to provide your credit card information. Shopify operates on a subscription model, with varying plans depending on your desired features and the size of your e-commerce venture.
Besides, Shopify provides various free apps for your store to boost sales. You can refer to 17+ Shopify Free Apps You Must Try
2. Discover a specific market
The next step is to identify a specific niche. Remember that this isn't a shortcut to instant wealth; it requires time to reap substantial profits. Therefore, opt for a niche you can commit to for the long haul rather than solely pursuing one that appears highly profitable. Additionally, be cautious about selecting niches with intense competition.
For drop shippers, the most ideal niches are those teeming with a wide range of potential products that are lightweight and resistant to damage.
3. Locate a product within your chosen market
The next and primary step is determining the products you intend to focus on. Identifying the right product is akin to discovering a pivotal treasure trove in drawing your initial customer base and shaping your business's future.
Here are some pieces of advice to consider when embarking on free dropshipping:
Opt to market products that align with your passions and interests.

Seek out items with a track record of positive reviews and customer satisfaction.

Stay engaged with other websites in the dropshipping realm to stay well-informed about an ever-evolving selection of trendy and in-demand products.
While exploring various alternatives, paying particular attention to print-on-demand (POD) service providers is essential. Similar to conventional dropshipping, POD enables you to acquire inventory per order. However, it has the advantage of allowing product customization with unique designs.
You can try Lumise ‑ POD Product Designer for free.  Lumise Product Designer is designed explicitly for print-on-demand retailers specializing in customized products such as t-shirts, mugs, phone cases, shoes, blankets, banners, and more. It empowers your customers to design their items effortlessly and enjoyably, offering many product options within the Lumise studio. 
Lumise undoubtedly serves as a powerful tool to enhance customer attraction and boost sales, as it caters to the universal appeal of personalized items, whether for personal use or as thoughtful gifts.
4. Connect with suppliers
Because you're not responsible for managing or storing your products, the quality of what you offer relies heavily on your suppliers. Identifying reliable suppliers isn't just about securing reasonable prices; it's also about ensuring the products meet the expected standards when they reach your customers.
Hence, when embarking on no-cost dropshipping, you must carefully choose suppliers.
Here are some recommended steps to evaluate whether a supplier aligns with your needs:
Verify if the products match their advertised descriptions.

Assess whether the quantity and quality of the products meet your specific requirements.
Pose critical questions such as:
How do they handle product returns or damages?

What's their timeline from sale to delivery and order fulfillment?

Do they offer safeguards against fraudulent activities?

Can you find online reviews or references attesting to the reliability of these suppliers?
5. Build your online store and spread the word
The last step is to establish your Shopify online store. 
If you're considering embarking on the dropshipping journey using Shopify, consult our 6 Tips to Build a Successful Shopify Dropshipping Store to kickstart your venture. 
Here are some simple instructions for setting up your dropshipping store:
Establish a personalized domain: Craft a unique custom domain to enhance your brand's professionalism and distinctiveness.
Create webpages: Develop webpages that serve as the content your customers encounter when they visit your store. These may encompass the homepage, collection page, product page, and blog page, among others.
Furthermore, leverage third-party apps to tailor your store to your specifications further. Consider incorporating free apps like EComposer - Shopify Page Builder, an invaluable tool offering an array of elegant templates, over 200 versatile sections, and unique elements and extensions.
Especially this app provides free many features for users with the ability to create up to 3 live pages for all types of pages, save 10 templates, access over 70-page layouts, utilize more than 200 section layouts, integrate with over 20 other tools, and offer 24/7 live chat support. This is highly beneficial for beginners as it helps them save on expenses. 
This app simplifies the creation of diverse pages, including the Home Page, Landing Page, Product Page, Coming Soon Page, and Contact Us, empowering you to craft a professional and captivating website that effectively showcases your products.
Read more: Best Shopify Landing Page Apps
Select an eye-catching theme: Opt for an impressive theme that is pivotal in grabbing your customers' attention and encouraging them to spend more time on your website.
Utilize the theme editor to experiment with various fonts, color schemes, button styles, and other visual elements, ensuring your store's design harmonizes with your brand identity. The objective is to fashion an attractive, immersive shopping experience that leaves a lasting impression.
You can refer to How to get a Premium Theme on ThemeForest for Free
Utilize a dropshipping application: In the final phase, integrate a dropshipping app into your store to transform your dropshipping aspirations into reality.
You can refer to +11 Best Shopify Apps For Dropshipping
Personalizing your Shopify dropshipping store with a carefully selected store name, attractive design, and appropriate apps allows you to fashion your customers' aesthetically pleasing and smooth shopping journey. This effort distinguishes your store in a competitive landscape and establishes a robust and memorable brand presence.
FAQs
Can I Begin Dropshipping Without Any Initial Investment?
Yes, you can initiate dropshipping without any upfront capital. Specific platforms, like Shopify, offer free trial periods that allow you to establish and launch your dropshipping store. Moreover, you can also collaborate with suppliers who provide dropshipping services without requiring any initial payments.
Is Dropshipping a Simple Venture to Start?
Commencing dropshipping is straightforward, eliminating the need to manage inventory or oversee shipping logistics. Nonetheless, achieving long-term success necessitates careful preparation, thorough market research, and effective marketing strategies. 
Acquiring knowledge about product sourcing, setting up an online store, and mastering customer acquisition techniques is crucial to maximize your chances of prosperity.
What Are the Various Costs Associated With Dropshipping?
The costs associated with dropshipping can fluctuate based on the platforms and services you opt for. Typical expenses include fees related to selling channels, such as listing and transaction fees on marketplaces like Amazon or eBay, which can range from a few cents to a percentage of the sale.
Additionally, you have marketing expenses such as advertising on Facebook or Google Ads to promote your online store and drive traffic. Furthermore, specific dropshipping platforms may impose monthly subscription fees or transaction fees for each order processed.
Which Platform Is the Optimal Choice for Starting a Dropshipping Business?
Selecting the best platform for commencing your dropshipping venture hinges on your specific requirements and preferences. Shopify is favored for its user-friendly interface, extensive app integrations, and specialized dropshipping features. Similarly, WooCommerce offers customization options and seamlessly integrates with WordPress. Other well-regarded options include eBay, Facebook, Etsy, and Amazon.
Conclusion
The question " Can I start Shopify dropshipping with no money?" with opt for free alternatives whenever feasible, exert diligent effort, and remain focused on a specific niche.
While starting without any financial investment is technically achievable, allocating at least a modest amount for hosting is advisable to establish a robust foundation. Embarking on an utterly cost-free journey may present formidable challenges to success.
Assuming you are firmly committed to achieving your goals and consistently invest time and labor into your dropshipping venture, you will begin to witness positive outcomes. Keep in mind that, initially, you'll need to put in substantial time and effort to compensate for the absence of initial capital.