Shopify Plus Plan: Understanding the Features and Pricing (Guide 2023)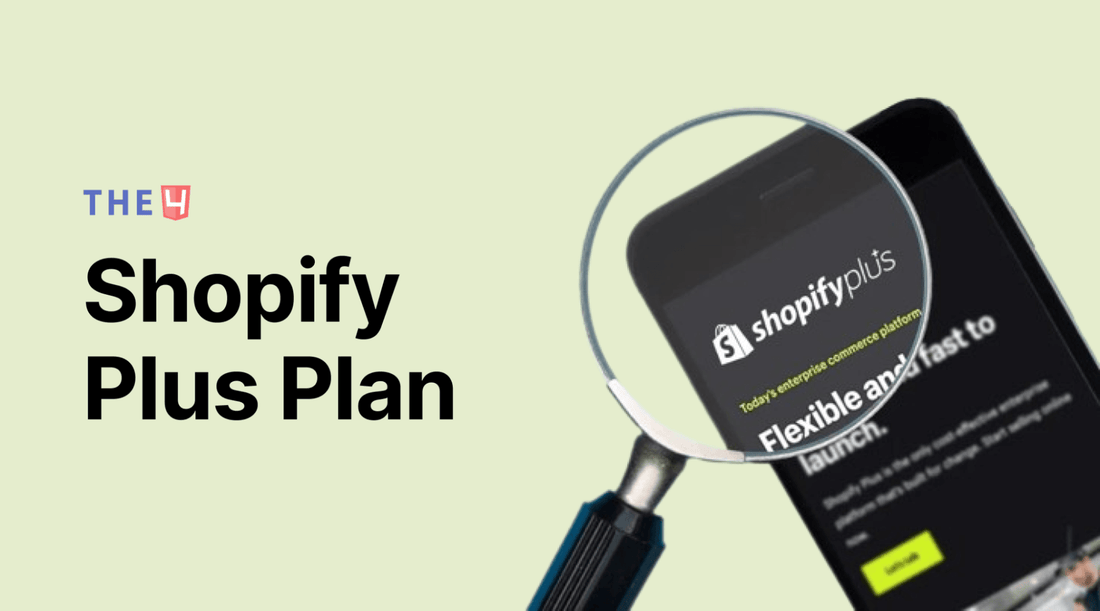 In this dynamic digital era, having a robust e-commerce platform is crucial to staying ahead of the competition. Shopify Plus is here to power up your online store, offering advanced features tailored for high-growth businesses.
Whether you're a seasoned e-commerce veteran or just starting your entrepreneurial journey, Shopify Plus has something in store. In this guide, we'll dive deep into the world of Shopify Plus and explore its highlight features. 
Before going into the details, make sure you have built an eCommerce store on Shopify!
What is Shopify Plus Plan?
Shopify Plus is the ultimate eCommerce powerhouse designed to cater to high-growth brands and online merchants. As the enterprise-level solution offered by Shopify, it takes eCommerce to the next level, empowering businesses with the tools they need to thrive in a fast-paced digital landscape.
Unlike its standard counterpart, Shopify Plus is finely tuned for high-traffic stores, ensuring a seamless shopping experience for customers even during peak times. With a remarkable 99.98% uptime promise, you can rest assured that your online store will be available and ready to serve customers anytime.
Moreover, Shopify Plus provides access to valuable integrations and tools, such as Shop Pay, Launchpad, etc. These tools can significantly enhance your store's performance and efficiency, making managing inventory, handling orders, and automating various tasks easier.
How much does Shopify Plus cost in 2023?
As the premier choice for large e-commerce merchants and enterprises, Shopify Plus provides robust features tailored to meet the needs of high-growth businesses. However, it's essential to recognize that such unparalleled capabilities come with a higher price tag compared to the regular Shopify plans.
For those already using Shopify and ready to take their business to the next level, migrating to Shopify Plus is a seamless process that comes at no additional cost. Once you move, you can access powerful tools to supercharge your online store and drive substantial growth.
When it comes to pricing, Shopify Plus offers a straightforward structure with three static charges:
- Monthly Service Charge: The base price for using Shopify Plus is set at $2,000 per month. While this may seem significant, it's essential to consider its robust features and capabilities, which are tailored to handle the demands of high-traffic stores and enterprise-level operations.
- Third-Party Payment Processor Fee: When processing transactions through a third-party payment processor, there's a 0.15% charge per transaction. This fee ensures secure and seamless customer payment processing, enabling smooth and reliable transactions.
- Automated Tax Calculation (Optional): Shopify Plus offers the option to integrate the Avalara Avatax service for automated tax calculation. This service costs $250 per month for each store you own, and it's entirely optional based on your business needs.
It's important to note that while these are the core pricing components, additional charges may arise depending on the specific services you choose to integrate into your Shopify Plus site. The number of sales per transaction can also impact the overall cost.
To obtain a personalized price quotation tailored to your business requirements, contact Shopify Plus. Their dedicated team will happily assist you and provide the pricing details that align perfectly with your unique needs.
Shopify Plus Plan Highlight Features
Storefront feature: 
1. Multi-store Support
With Shopify Plus, you can expand your existing store by adding up to nine more stores, whether physical locations or digital ventures. Moreover, Shopify Plus equips you with all the essential tools and resources needed to ensure a successful and seamless expansion, empowering your business to grow and thrive in the competitive e-commerce landscape. 
2. Specialized App and Channels
Enterprise Shopify's selection of advanced apps and channels empowers you to discover the potential for remarkable business growth. These powerful tools provide a seamless and productive eCommerce experience, helping you unleash the full potential of your enterprise.
3. Shopify Plus Academy
You require all the assistance available to manage and scale your business effectively. Shopify Plus Academy, an online learning platform, equips you with the essential knowledge to maintain and advance your store's progress. Access this valuable resource conveniently from your organization's admin, empowering you to stay ahead in the e-commerce game.
4. Customizable Checkout
With Enterprise Shopify, you can take your checkout page to the next level, surpassing basic Shopify customization to create a captivating and engaging store experience. Unleash your brand's full potential and make your online store stand out. 
5. Unique Themes
While Shopify already offers a diverse range of unique themes, including dropshipping themes, Shopify Plus takes it a step further by providing even more options. With Shopify Plus, you can experiment with new themes without changing the appearance of your website. Additionally, you can add up to 100 themes to your store website, empowering you with greater customization possibilities to create the perfect online shopping experience.
Consider popular themes like Kalles, Gecko, Unsen, Ocolus, and more, each presenting distinctive designs and functionalities perfectly suited to your needs.
6. Launch Team Support
Upon migrating to Shopify Plus, the Launch Team Support service becomes your invaluable ally in taking your business online. This service equips you with all the tools, strategies, and integration techniques required to forge ahead confidently, ensuring a smooth and successful transition to Shopify Plus.
Admin feature
1. Shopify Organization Admin
With the Shopify Organization Admin, an exclusive management tool available to users on the Shopify Plus plan, you gain seamless control over all the stores within your business through a unified dashboard. This comprehensive tool empowers you to efficiently manage your store overview, user settings and leverage the power of Shopify Flow to streamline and automate essential processes. 
2. API
Sometimes you run into problems when you try to integrate an app into your store due to the terms of the API. Don't worry, Shopify Plus puts the API resources at your disposal, making app integration simpler than ever. You can take advantage of the following functions:
- Multipass
- User
- GiftCard
- publishableUnplublish
- publishablePublish
Read more: Mastering the Shopify API: Plans, Types, and Tips
3. Advanced Permissions
Shopify Plus offers increased control over store activities with additional permission settings. Decide which tasks your staff can perform and restrict others, streamlining your operations efficiently.
4. Shopify POS Pro
With the ability to add more stores to your existing one, Shopify Plus also provides POS features for all the stores, and the best part is that it comes at no extra charge. Enjoy the seamless convenience and flexibility of managing multiple stores with integrated POS capabilities.
5. Automated Tax Calculation
Seamlessly handling your taxes is made effortless with Shopify Plus, as it integrates with Avalara AvaTax, a powerful sales tax software. This partnership ensures that your Shopify taxes are calculated using real-time data, providing you with accurate and efficient tax management capabilities.
6. Shopify Plus Partner Program
By joining the Shopify Plus partner program, you can access a network of capable service providers equipped to handle your business growth. Partnering with these experts can significantly accelerate your business's growth trajectory, providing the resources and expertise needed to thrive in the competitive e-commerce landscape.
7. Merchant Success Program
Switching to Shopify Plus brings another significant advantage—access to the Shopify Merchant Success Program. This program offers valuable insights, tips, and tricks to enhance your store's performance, and the best part is it's completely free! Benefit from this program to unlock the full potential of your online business and achieve greater success.
Pros and Cons of Shopify Plus Plan
Pros
1. User-friendly
Shopify Plus boasts exceptional user-friendliness, enabling effortless store setup and management. Countless businesses have scaled new heights with the help of Shopify Plus. Additionally, incorporating promo and discount codes into your store is a breeze with Shopify Plus.
2. Integration
To enhance your business performance, you might require several additional apps. Fortunately, Shopify Plus simplifies the integration of these apps into your store. The API feature plays a vital role in this process, seamlessly syncing with connector apps at no extra cost. Additionally, you can effortlessly incorporate review apps to foster better customer relationships.
3. Shopify Flow
With Shopify Flow, you gain the power to automate all store activities. Once set up, this feature relieves you from managing certain tasks, as it diligently keeps your store and apps updated and running seamlessly in real time. Embrace efficiency and convenience with Shopify Flow at your service.
4. Customer support
Shopify Plus offers round-the-clock customer support, ensuring someone is always available to attend to your needs. Expect swift responses and immediate solutions to your challenges from their dedicated support team, providing valuable assistance whenever required.
5. Data Organization
Shopify Plus systematically organizes your store's data, making accessing your customer's information effortless. This feature eliminates the need to sift through vast amounts of data, saving you time and ensuring you can easily find what you need. 
6. Order Visibility
With Shopify Plus, you gain access to comprehensive details of your customer's orders as soon as they are placed. This visibility allows you to handle orders with precision, avoiding any mix-ups. Additionally, Shopify Plus facilitates easy payment, shipping, and refund status tracking, ensuring seamless order management and enhancing customer satisfaction.
7. High Scalability
With Shopify Plus, over 10,000 merchants have experienced remarkable revenue growth, elevating their earnings from thousands to millions annually. Moreover, some aspects require minimal effort, allowing you to achieve substantial results without breaking a sweat. Embrace the potential for substantial business success with Shopify Plus at your side.
8. Sell Faster With Shopify Plus
By migrating your business to Shopify Plus from Shopify or other e-commerce platforms, you can start making sales in just 3-4 months. In contrast, traditional software may take over 12 months before significant growth becomes apparent. Shopify Plus offers a quicker path to success, allowing you to seize opportunities and see results in a shorter timeframe.
Cons
1. High Service Charge
Shopify Plus has a higher price tag than other e-commerce platforms offering similar services. In addition to the $2,000 monthly fee, integrating certain third-party apps may incur additional charges. While it offers advanced features, businesses should consider the costs and benefits before choosing Shopify Plus.
2. Difficulty With Multiple Order Processing
Combining multiple customer orders with separate times or emails can be challenging on Shopify Plus, making it difficult to merge them into a single shipment. Consequently, customers may incur higher shipping costs. If combining orders becomes necessary, the business may need to cover the additional expenses. However, the platform allows you to mitigate shipping costs by offering multiple shipping options in your store.
3. Rigidity In Customization
Shopify employs a programming language that proves challenging to comprehend for regular users and even some developers. This difficulty in understanding the language makes customizing store designs daunting for many. Consequently, some users may hesitate to update their store outlook due to the complexity involved frequently.
Who should use Shopify Plus Plan?
Shopify Plus is a premium plan offered by Shopify, specifically designed for large and fast-growing e-commerce businesses. This plan is ideal for you if:
- Your e-commerce business is experiencing significant growth and success.
- You have high website traffic and need a platform that can handle the increased load.
- Customization is important to you, and you want more control over your online store's design and functionality.
- You require advanced features and integrations unavailable in the standard Shopify plans.
- Excellent customer support and fast issue resolution are essential to your business.
- You plan to expand your business internationally and need features to support multi-currency and multilingual capabilities.
- Security and compliance are crucial concerns, and you need top-notch measures to protect your customers' data.
In summary, Shopify Plus is a premium solution for successful and rapidly growing e-commerce businesses that need a powerful, flexible, and feature-rich platform to take their online store to the next level. 
Shopify Plus Plan vs. Shopify
| | | |
| --- | --- | --- |
| | Shopify Plus | Standard Shopify Plans (Basic, Shopify, Advanced) |
| Pricing Tier | Starting at $2,000/month | $25/month (Basic), $65/month (Shopify), $399/month (Advanced) |
| Basic Store Functionality | Yes | Yes |
| Advanced Customization | Yes | No |
| Scalability | Yes | No |
| Handling Traffic Surges | Yes | No |
| Access to Advanced Apps | Yes | No |
| 24/7 Support | Yes | Yes |
| Merchant Success Program | Yes | No |
| Shopify Plus Partner Program | Yes | No |
| Shopify POS Pro | Yes | No |
When considering which plan to choose, it's essential to evaluate your business needs, size, and growth aspirations. Shopify Plus offers enterprise-level features, scalability, and customization, making it ideal for large-scale businesses seeking advanced capabilities. On the other hand, the standard Shopify plans cater to a wide range of businesses, offering essential store functionality and support at different price points. Analyze your requirements to make an informed decision for your e-commerce journey.
Read more: 
Shopify Advanced Plan: Comprehensive Reviews
Shopify Starter Plan: New Gateway to Your eCommerce Success
FAQs
1. How many stores can I have on Shopify Plus?
On Shopify Plus, you can have a total of 10 stores. This includes one main Shopify store and up to 9 expansion stores. If you wish to create more stores beyond this limit, you can do so at an additional fee of $250 USD per month for each extra store.
2. How many domains can I have using Shopify Plus Plan?
With the Shopify Plus plan, you can add up to 1,000 domains or subdomains to your store and your .myshopify.com URL. This provides you with extensive flexibility to manage multiple domains and subdomains to cater to various aspects of your business or target different regions or markets effectively.
3. Is it worth upgrading to Shopify Plus? 
Yes, upgrading to Shopify Plus is worth considering if your online business has outgrown the features and functionalities offered by regular Shopify plans. Shopify Plus provides superior capabilities, extra support, and unique features tailored for high-growth brands and enterprise-level merchants. Suppose you require advanced customization, scalability, and additional resources to handle increased traffic and complex business needs. In that case, Shopify Plus is a valuable investment to take your business to the next level.
Final Thought
In conclusion, Shopify Plus is the ideal choice for ambitious entrepreneurs and thriving enterprises seeking to elevate their online businesses. With its user-friendly interface, seamless app integration, and robust automation through Shopify Flow, managing and scaling your store becomes effortless. The 24/7 customer support, advanced customization, and handling of high-traffic surges make Shopify Plus a valuable investment for growth. 
Upgrade to Shopify Plus to unlock your business's full potential and thrive in the competitive e-commerce landscape. If you want more information or want to learn more information about EComposer and The4 products, follow us at ecomposer.io and the4.co.
=================
Add EComposer Next generation page builder Here.
Follow Us on Facebook
Join Official Community
Open a New Shopify store with Newest Exclusive discounts.