Full comparison: Shopify themes in ThemeForest & Shopify Theme Store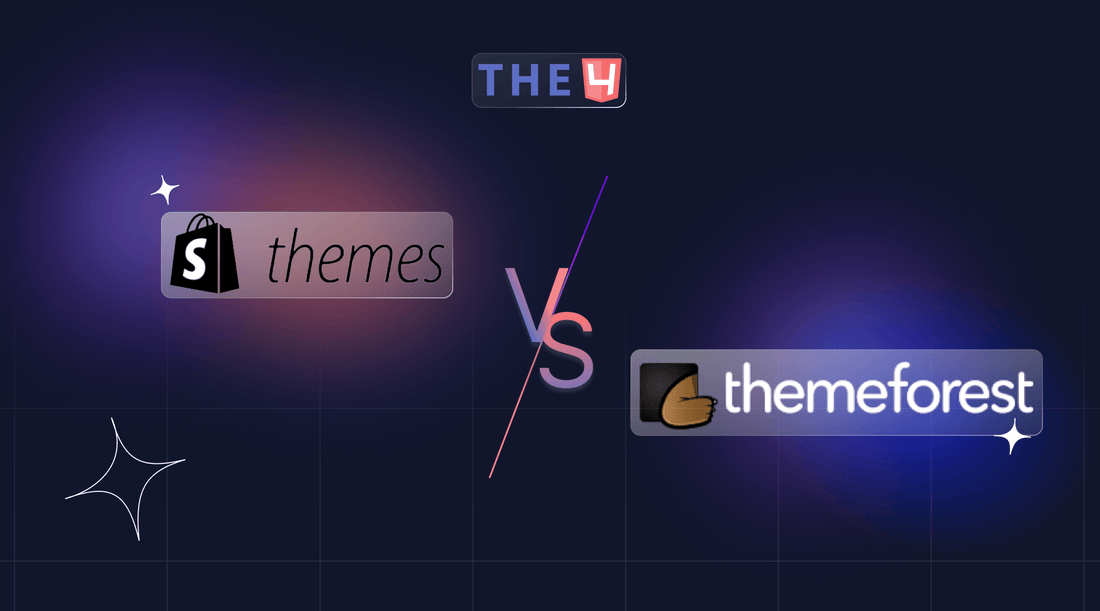 3 seconds?
Yes! It's only 3 seconds that visitors spend scanning and deciding to stay engaged on your online store.
The first impression is a crucial aspect that any store developers have to concern about firstly if they want to attract more customers. And selecting a theme is considered as creating a "skin" of sorts for your Shopify site.
Nowadays, we can see thousands of Shopify themes on different levels that you can find in various markets. In this blog, we will help you dig down the pros and cons of Shopify themes on two of the leading marketplace in the world: Shopify Theme Store and Envato ThemeForest, thus letting you determine which is suited for your Shopify store.
But first, let's find down what the Shopify theme is.
What is the Shopify theme?
The Shopify theme is the pre-made template applied to your storefront, determining how your customers will see your online store in terms of navigation, features, and content organization.
So you may ask why you should bother choosing a suitable theme for your store. Is it simply a matter of selecting a modern, appealing, and practical theme?
Not really.
Choosing the best Shopify theme for your store is about more than just finding one that looks good; it's also about providing your customers with the best shopping experience possible with the features available with each theme. Your theme serves as the foundation of your site, determining the overall feel, user experience, and atmosphere of your store.
What many new Shopify store owners are often surprised by is how many things Shopify themes affect - from which features you can use and how quickly the store loads to what you can customize and which other tools or apps you may need to install in your store.
Currently, Shopify themes appear in 2 of the leading marketplaces which are the Shopify theme store and Envato ThemeForest. What are they exactly?
What is the Shopify theme store?
Shopify theme store is one of the main theme markets that you should look for.
Up to now 100+ free and paid themes are available on the Shopify store. With the paid themes, the price fluctuates from $100-$350. Those paid themes are built by many developers worldwide.
All themes must meet strict requirements to ensure functionality and quality before being published on the Shopify Theme Store. If the theme developers miss any of the requirements in this list, then their submission will be rejected. They will need to modify their themes and send them to test Shopify before resubmitting. If they fail the Shopify test, their themes will be rejected without further reviews. 
So you can be assured of the quality of the Shopify theme in this marketplace.
What is ThemeForest?
Telling about the biggest market of Shopify theme, we cannot ignore ThemeForest of Envato.
Envato ThemeForest consists of a huge range of Shopify themes, including 1.7k+ Free and Premium Shopify themes from both Small and Tech-savvy Theme developers around the world.
A Shopify theme that can be published on this market needs to overcome a 5-to-7-day appraisal of Envato to ensure that this theme asset provides the right licenses, and doesn't have malware or virus, etc. 
The price of the Shopify themes on ThemeForest is between $7 to $119 with different standards. Most of the time, the cheapest is not the best.
So our advice is you should choose Premium themes created by well-known developers which are Power Elite Authors. It's not an easy reward to earn from Envato. Those authors achieved it because they understand Shopify users' pain points and keep improving their themes to enhance user experiences. 
Power Elite Author on Envato's Wall of Frame
You can seek highly- qualified Shopify themes on ThemeForest by sorting "Best Sellers" or "Best rated" categories.
Or grabbing Best-selling Shopify themes on ThemeForest's Shopify theme leaderboard.
So what are the differences between themes on the 2 market places? Let us show you.
Detailed Compare between themes on Shopify and ThemeForest?
From now on, we will help you compare themes in these markets based on the following aspects:
- Pricing
- Design
- Functionality
- Quality
- Support service
You can glance our short comparison between themes on the Shopify theme store and Themeforest via the table here:
[ecom-global-block]ecom-shopify-themes-comparison-block[/ecom-global-block]
Let's dig deeper each charateristics now.
About Price and Payment
So let's discuss the pricing of the 2 markets' Shopify themes.
We can see that only the Shopify theme store sells Free themes. Debut, Dawn,... are some notable Free themes on the Shopify theme store that are usually chosen by most Shopify merchants. 
Currently, there are 11 Shopify free themes on the theme store. 
With Paid themes, the price range of Shopify themes on the Shopify store doubles and even triples the Premium themes price on ThemeForest. 
May you consider which theme is more economical? 
Free themes typically include standard features but lack anything that would set you apart from the crowd. You'll need to install an app if you want a special feature to work with your free theme which can slow down your site and raise your monthly costs.
Paid themes, on the other hand, frequently include advanced features right out of the box and are optimized to run quickly. There is no need to download an app to access them.
Can we try a Premium Shopify theme before purchasing? 
Unfortunately, there is no free trial plan for Themes on the ThemeForest markets. Meanwhile, you can try any paid theme on the Shopify theme store for FREE, until you want to publish your store.
Payment: Both paid themes on those two markets are a one-time charge. 
About design
We believe that you not only require your store to good looking but also to work properly and give seamless shopping experiences to your customers. 
That thing mostly stands on store design.
So first, let's take a look at Shopify themes' demos in different markets.
Theme templates and demos
You can see free Shopify theme has no variant in its template. In contrast, most of the paid themes on the Shopify theme store provide more diverse templates in different colors. 
With Shopify paid theme on the theme store, you can select the color to
add to your store
When searching the Shopify theme on ThemeForest, you can see lots of demos that depict how this theme is used to create store interfaces in different fields such as Fashion, household, accessory and cosmetics, sport, digital gadgets, etc. So you will see "Ah! my store can be built beautifully like that". Not only seeing, but you can also import these demos on your store you're into your store and do further customization fast and easily.  
You can explore various demos on Kalles - one of the outstanding Shopify themes on ThemeForest to add to your store
Diverse layouts for multi-purposes
A difference that makes Premium Shopify themes on ThemeForest special is layouts. 
Unlike themes on the Shopify theme store with either no layout or limited options in layout change, color and font selection, ThemeForest's paid themes provide users with plenty of templates for different parts of their stores such as layouts for single products, headers, etc, with "wow" features, including
- Custom color swatches
- Quick view mode
- 3D video thumbnails, and AR models
- Live search
- Back-in-stock notification
 And more. 
So generally speaking, ThemeForest's paid themes offer more design options than themes on the Shopify theme store. A free theme will provide you with a standard layout and a limited number of fonts and colors, but not enough to make your store stand out. Shopify and ThemeForest's paid themes provide you with many customization options, allowing you to provide your customers with a smooth and seamless experience.
About Functionality
We will make a short comparison of 3 representatives for Shopify themes: Dawn, Prestige, and Kalles. 
[ecom-global-block]ecom-theme-feature-compare-block[/ecom-global-block]
Bonus, to support Shopify store owners and developers in using various helpful features without slowing site speed and coding intervention, Premium Shopify themes like Kalles, Gecko,.. has been integrated with Top Shopify plugins and apps, such as EComposer, Fontify, Flashsearch, Growave, and numerous Shopify apps in different categories like Store design, translating, marketing & SEO, Upselling Cross Selling, Product reviews, and referral & Affiliate. 
Especially, there are just a few Premium themes having Theme partner plans with Shopify apps. That's an amazing chance for you to build your idea pages in a professional way. Click and explore here.
Unlike Free themes, Paid themes on the Shopify theme store and ThemeForest are updated frequently with lots of new features and improvements. 
If every change in paid themes on the Theme store wants to publish, they all need to be submitted and approved by Shopify. However, Theme developers on ThemeForest are more proactive in improving and updating news about their products' new versions.
About theme quality
We are willing to pay for any products or services deserving of their value. 
Besides design, the quality of the Shopify theme is a crucial aspect that any merchants are usually concerned about. 
There are 2 factors to evaluate a Shopify theme quality level.
- Loading speed
- Ease to use
Loading speed
A figure from Yotta.com shows that 40% of visitors will abandon a website and 80% of those visitors won't return if it takes more than three seconds to load. For mobiles, this figure is 74% of abandonment.
We will see that free themes being created and optimized carefully by Shopify runs fast because they consist of fewer features to load. To have more features in translating, marketing & SEO, Upselling & Cross Selling, or Product reviews, the merchants need to install 3rd-party apps that aren't compatible with their current theme. The more apps they add to the store, the slower their site speed can be.
That is not to say that paid themes are slow. In particular, the duration of Site loading that most of ThemeForest's premium Shopify themes assure with their merchants is Under 3 seconds.
Unlike free themes, both Paid theme creators on Shopify and ThemeForest understand that customers value fast-loading sites and ensure their themes meet those expectations, along with providing needed features. Let's dig deeper.
Ease to use
Free themes are generally simpler to use, but only because they provide fewer options and customizations. You are limited in What you see is exactly what you get.
Paid themes generally allow you to do more with them, and it may be complicated for you. They provide numerous options for customizing the theme to fit your products and brand. 
Especially, Premium Shopify themes on ThemeForest are optimized in their settings panel, so that Shopify merchants can experience diverse features with a smooth drag and drop.
About Support
Free theme support
All of the free themes from the Shopify theme store include documentation and 24/7 support from Shopify.
The thing here is you only get a limited support service. 
Imagine that you run into a problem while using the page editor when using Free Shopify themes. You won't get an immediate response. This is because you will be directed to a help center that only addresses frequently asked questions, making it difficult to find a specific solution to your problem.
Shopify paid theme support
With Shopify paid themes, the theme providers all attach their manual doc and the link to their support system theme store description. 
The estimated waiting time is about 3 business days.
Some themes like Prestige will require you to purchase its theme before generating questions.
However, there are some limitations in asking questions to those themes' support teams. You only have a right to ask them about:
- Fixing bugs
- Questions regarding theme settings/existing features
They don't support you in
- Integrating third-party apps
- Development of new features
- Adding new theme settings
- Fixing issues that were caused by apps or by third-party developers
- Altering the design of the theme
- Troubleshooting previous customizations after updating the theme.
ThemeForest's Shopify themes support
If you buy a paid theme from outside of Shopify like on ThemeForest, you will get delicate support from the theme author's detailed documentation, support portal, and community.
See an example of The4 Commerce's supporting system. 
About The4's supporting center, you will be able to receive support from the developer team after purchasing their versatile Shopify theme. The ticketing system is now operational. Simply submit a ticket to receive help within 1 to 5 days a week in the specified time zone. You especially can open Pre-sale tickets to ask any question before deciding to grab their theme.
The4 also publishes its documentation that is well-organized to give stress-free experiences with its themes.
Besides, you can create any question in The4's private community to get instant support. 
Get The4's dedicated support here.
How to choose a perfect Shopify theme for your store?
If you're serious about selling on Shopify, paid Shopify themes are without a doubt the best value. Yes, they have a cost, but it is insignificant in comparison to the value they provide. Although free themes are a good place to start, you should expect to upgrade to a paid Shopify theme at some point.
They'll assume your products and customer service are the same if your site appears cheap, unprofessional, or generic. Customers will think more highly of you if your website is clean, clear, and well-designed.
Paid Shopify themes are also available to give you more control over the look and function of your site. You can select the best theme for your requirements. You can get any layout and design you want if you hire a developer to create a custom theme for you.
While paid themes on Shopify store are limited in features, ThemeForest's Shopify themes equip plenty of tools and layouts to satisfy your store customization work, with reasonable prices.
So we recommend you use the Free theme when
1- YOU HAVE A SMALL BUDGET
If you don't have a lot of money to invest in your store right now, a free theme will suffice for the time being. If you intend to upgrade to a paid theme in the future, don't spend too much time customizing it.
2- YOU DO NOT YET HAVE A BRAND DIRECTION.
If you're still experimenting with your branding, investing in a paid theme is not a good time. Otherwise, you risk purchasing a theme that is inappropriate for your style.
3- YOU STILL NEED MORE TIME TO EXPLORE SHOPIFY
Shopify is not the only e-commerce platform available. It's reasonable to try a few of them before settling on one, but there's no need to spend your money. You can try out all of the main Shopify features without purchasing anything.
4- YOUR E-COMMERCE REQUIREMENTS ARE SIMPLE.
Some store owners create Shopify stores for precise reasons. For example, a family reunion organizer may set up a store where attendees can buy the reunion T-shirt. Alternatively, a boy scout troop could open a store to sell a few swag items to parents.
When your needs are few and your customer base is small, it makes no sense to spend a lot of money on a premium theme when a free one suffices.
5- YOU'RE UNSURE IF THIS ECOMMERCE THING IS RIGHT FOR YOU.
Don't buy a theme if you're just playing around with tools to see if e-commerce is right for you. Use a free theme until you are sure you want to pursue it seriously.
Wrap-up
As you can see, free and paid themes have advantages and disadvantages over one another. Although free themes are not required to be paid for, their features and designs are limited. Paid themes on Shopify and ThemeForest have a lot of features and high-quality designs, but they cost money. Finally, you must decide which is best for your business.
Check out The4.co to see updated news, tips, and tricks to build your beautiful branded Shopify store fast and easily.
Frequently Asked Questions 
1- How many types of Shopify themes in the eCommerce marketplace?
There are 2 types of Shopify themes, which are Free and Paid themes. 
About Paid themes, there are 2 main types:
1- One-time payment: Including:
- Paid themes on the Shopify store: from $180 to $350
- Premium themes on Themeforest: much cheaper and more reasonable price (from $17 to $120)
2- Subscription:
- Premium themes with monthly or yearly payments, like Debutify or Booster Theme
2-
Why Shopify theme on ThemeForest is much cheaper than a theme on the Shopify theme store?
It's because of the rigorous level of each marketplace approval process and pricing 
The price of paid Themes on the Shopify theme store lies in strict appraisal steps from idea, and code material to feature categories, and high intent control if themes want to update.
Meanwhile, ThemeForest's theme testing process is more accessible but careful enough to ensure the quality of approved themes. This pricing and taxes policy also facilitates most users of SMBs the opportunities to use high-standard Shopify themes at reasonable prices. So that this market's pricing and taxes policy is more suitable.
Moreover, Best-selling themes from well-known developers on ThemeForest can join in Seasonal promotion campaigns from Envato.
3-
Why do authors not sell on the Shopify Theme store?
Strict assessment and expensive pricing policy are the main barriers for 3rd party theme developers to submit their items to the Shopify theme store. This assessment process takes such a long time and the percentage of rejection is really high. 
Therefore, most of the authors do not choose this marketplace to sell their items at the beginning.
Unlike the Shopify theme store, ThemeForest - well-known as a top best Theme and digital products marketplace, has easier Theme appraisal and a more appealing pricing policy, so many authors worldwide switch to selling their items there to spread out their reputation and engage with more customers in different segments.
4- What are the differences between Paid themes on the Shopify theme store and on ThemeForest?
The Shopify Theme store features themes created by Shopify as well as third-party developers. Themes must be approved by Shopify and meet Shopify theme standards before being published on Shopify's theme marketplace. Shopify charges developers a 15% commission on each theme sold.
Some developers chose not to sell their themes via the Shopify theme store for different reasons. Some Shopify themes on ThemeForest at lower prices are typical of lower quality than those sold on the official Shopify marketplace.
Another difference is that only the Shopify Theme store allows you to install themes in "theme trial" mode, allowing you to see how the theme appears on your store.
Themeforest themes do not allow you to directly edit the template files until the theme is purchased.
5-
Should I buy Premium Shopify themes in ThemeForest or Shopify Theme Store?
Actually, it depends on your business capacity and requirements for Shopify themes that you want to choose, based on the following aspects:
- Your budget
- Theme support system
- Diverse device responsiveness
- Easy customization
- Friendly User experience
Ideally, if you can have a high budget for store design, you can select Shopify paid themes of theme store because all of them are passed Shopify's harsh pre-publish requirements.
But if you only have a modest capital, Shopify themes on ThemeForest are the best choices for you. There's a thing you have to concern is that: choosing ThemeForest's Shopify themes created by synonymous authors who are guaranteed by Envato.
6- What are the best Free themes on Shopify?
We suggest you use Dawn- Free Shopify theme with friendly UX- UI and dynamic theme sections. This's such a great choice for you to get used to the Shopify Platform. 
7- What are the best Paid Shopify themes?
About themes on the Shopify theme store, you can try the District theme which reached 100% positive reviews up to now because of diverse functions and good customer support.
On ThemeForest, you can add Kalles Clean and Fully responsive theme which has a responsive mobile design, built-in customization options, a stunning lookbook, and many other features, hence making it simple to experiment with different Shopify page templates and designs. Especially, Kalles corporates with EComposer on EComposer Theme partner plan to build up your store in the higher levels (save $114).
8- Can I ask for support about my chosen Shopify theme?
Yes.
In particular, with Shopify free themes, you will get support from Shopify manual doc and support systems.
With Paid Shopify theme on the Shopify store, theme developers will support you via their theme documentation and support center. You won't have full support until you purchase these themes. 
Otherwise, Themes on ThemeForest offer users support via their detailed documentation, support portal, and private community. Especially, there are no limitations in generating questions for the support team. Moreover, you can open Pre-sale tickets to ask any questions before making purchases. 
—--------------------------------------------------------------
Check out best-selling Shopify themes here
Follow Us on Facebook
Join Official Community
Open New Shopify store with Newest Exclusive discounts.
May you interest
Gecko 6.0 Shopify theme release| December Updates & Insights
Top 10 Best Shopify Size Chart Apps in 2023
Top 10 Best Shopify Push Notification Apps in 2023
+25 Shopify Apps To Increase Sales Fast in 2023