Gecko 6.0 Shopify theme release| December Updates & Insights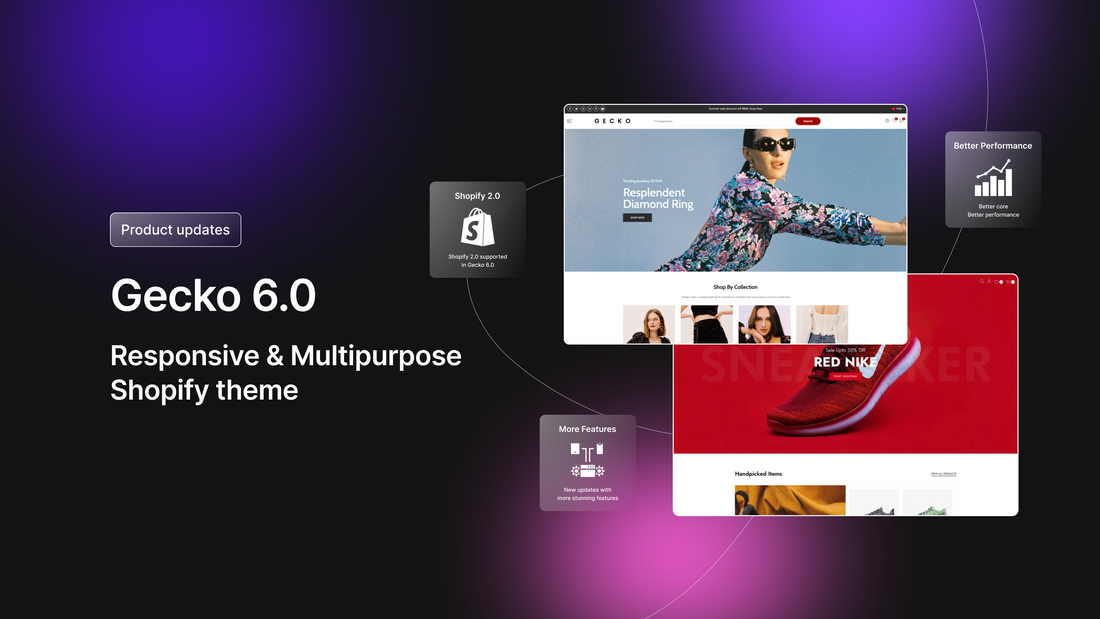 Top 4+ Best eCommerce Website Templates on Envato Tut+
Top 7+ weekly Shopify best-selling themes on Themeforest.
And landing on Top of numerous reputative leaderboards as the Best Shopify themes. since 2019.
Those are just a few of Gecko's achievements. 
That's why we, Gecko developing team from The4, are coming back with Gecko 6 Shopify theme and supreme updates and improvements, in terms of satisfying expectation and trust of you - Gecko beloved users.
So what's new in the latest version of Gecko 6.0 Responsive Shopify theme? Check it out!
But first things first,....
Can my Shopify store upgrade from Gecko 5 to 6?
We need to notify you that Gecko 6 and Gecko 5, or previous versions of Gecko Shopify themes are created as entirely separate versions. So you can't upgrade to the higher one in a straightforward way.
Gecko 6 is the newest version which has been fully built in a better core and fixed bugs and tweaks of older versions. 
So if you are using the previous Gecko versions, you will need to configure everything from scratch. We apologize for this inconvenience.
But we, The4 team, believe that it will be worthwhile for you when your store can be set up in the pro version of Gecko- Gecko 6.0 Shopify theme being equipped with various updated features.
Scroll and dig down to see what's COOL waiting for you and your eCommerce store.
Better core - Better performance
Friend,
There's a thing we need to remind you: You have to exchange speed and features.
That's the biggest drawback that most Shopify users meet when using either Shopify theme third-party poor quality Theme to build their stores. 
They might run fast, or have a clear layout. But to build an online store having enough eCommerce functions, you have to install other third-party apps, which can impact on your store loading speed, then lead to a poor customer experience.
With a better code base and fully supported usage on Shopify OS2.0, Gecko 6 is expected as such an optimal solution to improve your site performance much smoother with various wonderful features.
Gecko 6 is compatible with EComposer
Yes! 
Gecko 6 Shopify theme is 100% compatible with EComposer- Next Generation Shopify Page Builder.
Not only running without any technique interference like other Shopify free and paid themes, but you will also own a Separated section with Tons of Gecko layouts built on the EComposer template library automatically.
Interesting? That will be a Super exciting benefit for Gecko-conscious merchants.
All you need to do is Install Gecko 6, then add EComposer for your store.
So, have you wondered what's phenomenal in Gecko 6, compared with Gecko 5?
Let's dive in through the following aspects:
1. Design and layouts
2. UX- UI
3. Site speed
4. Product page configuration
Now, let's dive deeper into these features
Professional Design and Layouts:
Along with 20+ Home demos, 15+ inner page layouts, and nearly 30+ sections, Gecko 6.0 Responsive Shopify theme provides you more product grid layouts, which massively supports you in customizing your Product recommending list and collection page appealingly. Those templates and layouts are all supporting you in building any type of pages in different fields. No matter if you're selling clothes, foods and beverages, technical gadgets, or tourism service.
New product layouts: Product combined grid & Product tab accordions inner of Gecko 6 Shopify theme
UX-UI improvements
What's more? Our developers have changed the UX-UI of some features to optimize your customer purchasing experience. 
Upgraded Ask a question form
"Ask a question" form of Gecko 6 (left) and Gecko 5 (right) Shopify themes
You can see that the Gecko 6.0's Ask a Question form is added with shortened product information that your customer chose such as Product image, name and price. It's such a useful upgrade when you can let your shopper remember their choice, then leave the question to your store correctly. 
In addition, the "send" is highlighted for customers to look and send their questions easier.
Gecko 6.0 pickup availability
In Gecko 5.0, the pickup mail box will appear in the product page when the item your customer chooses runs out of stock. 
When he/she leaves his/her mail in the mailbox, and clicks "email me when available", your product page will be reloaded automatically, then show out another on-stock item variant.
When clicking back to the out-of-stock variant, the customer will see a confirmation that his/her mail was sent. 
Pickup availability of Gecko 5.0
The disadvantage of Gecko 5.0 available pickup form is:
- The visitor doesn't know if his/her email was sent to you until he/she seeks back to the chosen stock-off item.
- One shopper can only leave one and only email. It's inconvenient if he/she wants to re-update his/her email when the previous one is unavailable to get responses from you.
That's why we modified its UX-UI to optimize your customer shopping experience.
In particular, when the customers flick and shop an unavailable product and click on the button "Notify me when available", a popup will appear guiding them to fill in their email.
Once clicking on the given button, the pickup popup will disappear, and your store will show a confirmation bar at the bottom of your product page, while the product main area doesn't change. 
This is such an optimal upgrade because your store can ensure with your customers that their emails did send to you successfully. And whenever they want to send you another email, they absolutely can do it.
Upgraded Back-in-stock notifications
Your product can't be shipped at this time? And you don't know how to announce your customers when it's available to deliver?
Back-in-stock notifications can help you.
In Gecko 5.0's Back-in-stock notifications version, you only show off a sentence informing when you can ship the customer's picked item. 
In the Advanced Back-in-stock notifications version in Gecko 6.0, you can show more information, such as:
- Customer chosen item's information in basic
- Its on-stock duration
- Which subsidiaries are available to deliver that item. And of course, their detailed contact and address information are also shown.
Change UI / UX of Quick Shop
Sometimes when wanting to change an add-to-cart item, your Shopper might confuse whether they will change to another variant, upsell or have to add the chosen item again. 
Switching from "Add to cart" to "Replace Item" will make your customers understand clearer what they will do when "editing item" showing on their shopping carts.
Site speed
Gecko 6's theme file is minimized rather than its version 5, which massively supports your theme file importing process.
Moreover, thanks to upgrading core base, Gecko 6 Shopify theme maintains your store can run fast and smoother. For instance, when experiencing this last version, you can see your site's image quantity and font icon are loading faster.
Product page configuration
Product pages play a crucial role in driving higher sales.
Hence, Gecko 6.0 Shopify theme provides you lots of cool features serving for configuring and customizing your product page.
Advanced adding product tab description
In Gecko version 6, you can configure your ideal product sidebar. 
More exceptional than the older version, Gecko 6's product sidebar can be zoomed out instead of being fixed on your product page. To open it, you just need to click on the "open sidebar" button. 
Sidebar also can be displayed in the product listing page constantly, like the picture below.
Optimized Add-to-cart process
By upgrading to a new core base, Gecko 6 Shopify theme prospects provide the visitor excellent shopping experience.
In detail, you can see the change in the visualized Free Shopping bar of Gecko 6
Along with the Confetti when the shopper reaches the free shopping standard
New Option: Use collection link in Vendor and type
Sometimes, your customers want to seek an item from their favorite vendor because of their reputation or highly-qualified products they gave to their customers. 
That is the time you need to apply "Use collection link in Vendor". This feature is essential in case your business cooperates with lots of suppliers.
All you need to do are:
Step 1: On the Shopify admin, go to Products -> Collections and name a list of products as the name of the vendor.
Step 2: Back to Online store -> Theme -> Customize theme to enable this function. Click on Collection template -> Main Collection -> Theme Settings -> Enable "Use collection link on vendor" option.
Notice: This function is only active if your store exist a collection named as the product's vendor name
Level-up Filter with Filter by tags
Gecko 6.0 has developed an advanced filter mode called Filter by tag.
It allows customers to seek products by selecting specific tags. It means that you need to make sure that your products contain tags names such as Color, Material, etc.
After going to Product to add tags for your products, let's get back to Gecko 6 editor , and find the Collection tab -> Main Collection - > scroll down and find the COLLECTION FILTER > select filter type "Filter by Tags" to enable this function.
Then scrolling down, finding the Fitler tags to configure the options showing on your store's Sidebar. 
New Option: Show first media
We all understand that first impressions are so important. 
Normally, it just takes less than 15 seconds on average for visitor's ready to spend on an online store. 
That means you have to capture your customers and potential clients' attention on your website within 10 to 15 seconds. 
That is the reason why Gecko 6 added a cool function called "Show first media". 
This option allows you to show off the first eye-catching image of your product. So the customers can be attracted when picking that product's variant.
Notice: "Show first media" isn't available when you also activate "Use group media".
Not stopping on that, Gecko 6 would love to give you other cool features such as:
- API show metafields for product variants
- NEW OPTION – Slider effect on section product
- NEW OPTION – Quick view type
- NEW SECTION – Banner with navigation
- NEW SECTION – Collections list simple 
- Product Recommendations on slide cart
And much more.
Other improvements
We, Gecko development team, prioritize optimizing your, the whole Shopify user and all of your customer experience with the eCommerce site built by our theme.
And it's not doubtful that Older Gecko could have many tweaks and bugs that need fixing. 
They might be small bugs, but our Gecko team all understand the seriousness they might impact on your Online store on a daily basis.
Therefore, besides much many new stunning features released, we would love to spread out our latest Gecko Shopify theme version 6.0 with better improvements and innovations in:
- Product group media
- Sale popups
- Product Video, 3D, AR models
- Section main product
- Improved cookies laws for GDPR compliance
- Improved section sticky toolbar and background color for body on mobile device
And more updates…
To help you understand clearer all of the updates of Gecko 6.0- Responsive and Multipurpose Shopify theme, you can reach out to the full changelog here.
Don't know how to apply Gecko to build a stunning store? Find us to receive the fastest support here.
Look forward to new updates
That's a wrap of Gecko Updated News. 
Thank you for reading this article in the end. We hope that this article has provided you with detailed useful information to help you customize your store more professionally, for more your business successes in the upcoming years.
We, the The4 team, are constantly working and innovating our product and services to improve your store-building experiences.
Please do not hesitate to leave your thoughts on this interesting blog in the comment box below. 
They are all valuable suggestions that will help The4 better versions support your beautiful branded store-building path. 
-------------
Install Gecko 6.0 Here
Follow Us on Facebook
Join Official Community
Open New Shopify store with Exclusive discount.
May you interest
How to add Free Wishlists on Shopify stores
How to add Free Product Comparison Tables on Shopify stores