Ultimate Review: Shopify Theme Launch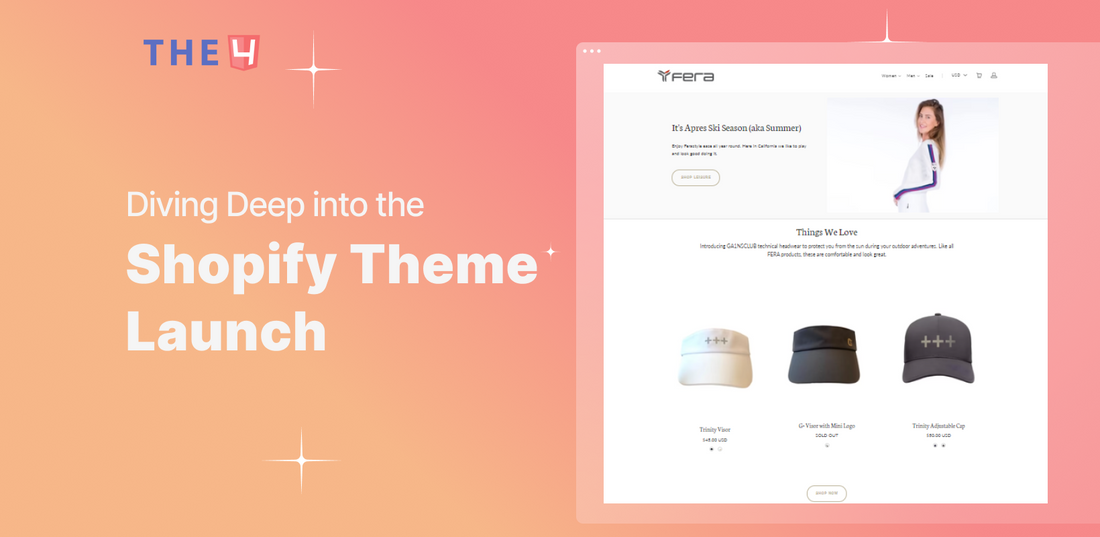 In the dynamic world of e-commerce, standing out is paramount. As you may know, Shopify Theme Launch is a game-changer revolutionizing how businesses leave their mark on the digital landscape. 
This blog is your ticket to unraveling the extraordinary features that set Shopify Theme Launch apart. From rapid setup to ingenious flash sale strategies and dedicated features for charitable endeavors, join us in exploring how this theme redefines excellence in its category. Let's embark on a journey into the realm of unparalleled online distinction!
A quick overview of Shopify Theme Launch
The Shopify Theme Launch is more than just a starting point. Think of it as a powerful tool that helps online businesses grow and succeed. It's like the engine that propels your online store to reach new levels of success. This theme is made to fit different types of businesses and industries. It's like a solid base that helps you create a beautiful online store that works well.
Imagine this theme as a foundation that supports your business as it grows. As you add more products and more people visit your store, this theme can handle everything without issues. It's like a magic trick that keeps everything running smoothly and ensures your customers have a great experience.
But wait, there's more! This Shopify Theme Launch isn't just about how things look. It comes with a bunch of tools that are designed to make your store work even better. These tools help interest people and make them want to buy things from your store. You can help people find products easily, show off videos, and more. It's like having a whole toolkit to make your store super effective.
The Shopify Theme Launch is more than a theme – it's a strategic investment in your online business's success. It provides a solid platform for growth, adaptable customization, and a suite of features that streamline the entire process. Whether you're a startup or an established brand, this launchpad sets the stage for an impressive online presence.
Where to buy Shopify Theme Launch
To access the distinctive and unparalleled Shopify Theme Launch, navigate the Shopify Theme Store. Here, you can delve into its unique capabilities and envisage its transformative potential for your store.
What truly sets the Shopify Theme Launch apart is its remarkable provision of an unrestricted free trial. It affords you an extensive timeframe to explore, experiment, and fine-tune the theme to align with your preferences perfectly.
Who is suitable for the Shopify Theme Launch?
Quick Starters: The Shopify Theme Launch is ideal for those eager to get their online store up and running swiftly and smoothly. This theme is designed with simplicity, making the setup steps minimal and easy to follow. This theme is a helpful guide if you're excited to bring your products to the online market without getting tangled up in complicated technical processes. It paves the way for you to launch your online store swiftly, allowing you to focus on your products, customers, and business strategies immediately.
Flash Sale Enthusiasts: For individuals and businesses that thrive on the excitement of flash sales and time-bound promotions, the Shopify Theme Launch is a faithful ally. This theme comes equipped with tailored features designed to effectively manage and showcase limited-time offers. It's like having a reliable assistant that keeps track of timers, showcases countdowns, and creates a sense of urgency among your customers. If you aim to create a buzz with time-sensitive deals, this theme provides the tools to captivate your audience and drive sales during these special moments.
Not-for-Profit Organizations: The Shopify Theme Launch is more than just a theme; it's a platform that resonates with organizations driven by social or charitable causes. If you're part of a not-for-profit organization seeking to raise funds and awareness for your noble mission, this theme is tailored to support your goals. It's like a partner that understands your unique needs, offering design elements and features that highlight your cause. With its intuitive setup and customizable options, this theme ensures that your online store effectively communicates your organization's values and purpose, making it easier for you to connect with like-minded supporters and positively impact the world.
Advantages and Disadvantages of Shopify Theme Launch
Advantages:
Enhanced Brand Identity:
Customizing a theme allows you to align your online store's appearance with your brand's identity, creating a consistent and memorable brand experience for customers.
Professional Design:
The Shopify Theme Launch offers a range of professionally designed themes that can instantly elevate the visual appeal of your online store. These themes are crafted by experts to provide a polished and attractive look, giving your store a competitive edge.
User-Friendly Customization:
The theme launch comes with user-friendly customization features enabling you to personalize the appearance and vibe of your store without needing extensive coding knowledge. You can empower yourself to create a store that aligns perfectly with your brand identity.
Scalability:
One of the critical advantages of the Shopify Theme Launch is its scalability. Your online store can easily handle increased product offerings, traffic, and transactions as your business grows, ensuring a seamless user experience.
Customer Support:
Shopify offers customer support for theme-related queries and issues. This support can be invaluable, especially if you encounter any technical challenges.
Regular Updates:
Shopify updates its themes to guarantee compatibility with current technologies and trends. You can keep your store up-to-date without worrying about outdated design elements.
If you want to improve your stunning website, you can look for  7 Must-have Website Design Elements for a Successful Shopify Store.
Disadvantages: 
Distinct Theme Code:
Among a small number of users, the theme code utilized in the Shopify Theme Launch differs from that of other stores, creating a slight difficulty in using insights from alternative support forums.
3 Styles of Launch Shopify Theme 
Bold and Vibrant: 
The style is an electrifying surge of energy within the e-commerce landscape. This theme style infuses your online store with a refreshing aura. If you elevate your store's visual allure, customer visit becomes an exhilarating journey, igniting excitement and curiosity for your valued customers. Opt for striking color combinations, bold typography, and eye-catching graphics. This style exudes energy and grabs attention, making it ideal for brands looking to stand out in competitive markets.
Cool Style: 
The Cool theme style within the Shopify Theme Launch is perfect for those who want to exude an air of modernity and sophistication. It's like stepping into a contemporary art gallery with sleek lines, muted colors, and a sense of effortless coolness. Your online store will have a clean and minimalistic look that appeals to customers who appreciate simplicity and elegance. The cool style is all about making a statement through subtlety, capturing attention with its understated yet powerful design elements. If you want your products showcased in a sleek and stylish environment, the Cool theme style is the way to go.
Fresh Style
 If you aim to infuse your online store with vibrancy and energy, the Fresh theme style from the Shopify Theme Launch collection is your perfect match. Imagine stepping into a sunny garden surrounded by lush greens and colorful blossoms. The Fresh style brings that same feeling to your online store with its vibrant color palette, playful typography, and dynamic layout. It's like a breath of fresh air for your customers, creating an inviting atmosphere that encourages exploration and engagement. Whether selling products related to health, beauty, or anything that sparks vitality, the Fresh style will make your offerings stand out.
Key Characteristics of the Shopify Theme Launch
Cart and Checkout Enhancements: In-store pickups and Pre-order
This theme offers advanced functionalities such as In-Store Pickups, giving your customers the convenience of online ordering with the option to collect items from your physical store. The Pre-order feature lets you generate excitement for upcoming products, allowing customers to secure their purchases before they're officially available.
Marketing and conversion
The Shopify Theme Launch boasts critical features that are strategically designed to enhance marketing efforts and drive conversions, ensuring a successful online store:
Age Verifier: The theme offers an Age Verifier tool, which is especially useful for businesses that sell age-restricted products. This feature ensures compliance with legal regulations by requiring customers to verify their age before accessing certain products. It establishes a responsible and secure shopping environment while maintaining a seamless user experience.
Comprehensive FAQ Page: The dedicated FAQ Page provides a platform for addressing common customer queries and concerns. By offering clear and concise answers to frequently asked questions, you can build trust, eliminate doubts, and empower customers to make confident purchasing decisions.
Engaging Promo Banners: Incorporating Promo Banners enables you to effectively highlight ongoing discounts, special offers, or upcoming promotions. These visually appealing banners catch customers' attention, encouraging them to explore your products and take advantage of your deals.
Personalized Recommendations: The theme supports Recommended Products, a feature that intelligently suggests complementary or similar items to customers based on their browsing history and preferences. This increases the likelihood of cross-selling and upselling, ultimately boosting the value of each customer's purchase.
Effortless Store Location: Including a Store Locator tool assists customers in finding your physical stores with ease. This feature is particularly valuable for businesses with multiple locations, enabling customers to easily locate and visit your stores in person and fostering a stronger connection between your online and offline presence.
Merchandising
The Shopify Theme Launch stands out in its ability to elevate your merchandising strategies, ensuring your products are presented in the most appealing and informative manner:
Vibrant Visuals with High-Resolution Images: The theme strongly emphasizes visual impact with its support for High-Resolution Images. This feature allows you to showcase your products in stunning detail, giving customers a clear and realistic view of what they're considering purchasing.
Transparency with Ingredients or Nutritional Information: For products that require additional context, such as food items or cosmetics, the theme accommodates the display of Ingredients or Nutritional Information. This level of transparency builds trust and helps customers make informed choices that align with their preferences and needs.
Structured Presentation with Product Tabs: Including Product Tabs enables you to present product information in an organized and user-friendly manner. Whether it's specifications, features, or usage details, this feature ensures that customers can access essential information without feeling overwhelmed.
Dynamic Engagement with Product Videos: To go beyond static images, the theme supports the integration of Product Videos. With this feature, you can visually demonstrate your products, explain their benefits, and give customers a richer understanding of what you offer.
Captivating Storytelling through Slideshows: The Slideshow feature is a captivating storytelling tool on your homepage. Use it to feature essential products, showcase seasonal collections, or highlight special promotions. The dynamic and visually appealing nature of slideshows captures visitors' attention and sets the tone for their browsing experience.
Guidance through Usage Information: The theme allows you to include Usage Information for products with specific usage instructions. This gives customers practical guidance on using or caring for their purchased items, enhancing their overall satisfaction.
Product discovery
Clear Navigation with Breadcrumbs: Including Breadcrumbs simplifies navigation by displaying the hierarchical path that leads customers to their current location within your store. This feature provides a clear context and enables easy backtracking or exploring related categories.
Efficient Exploration with Product Filtering and Sorting: The theme incorporates advanced Product Filtering and Sorting options. Customers can quickly refine their search by applying filters based on attributes like price, size, color, and more. This streamlined approach saves time and helps them discover products that align with their preferences.
Tailored Suggestions with Recommended Products: The Recommended Products feature takes personalization to the next level by presenting customers with product suggestions based on their browsing history and interests. This not only aids in guiding them towards relevant items but also enhances cross-selling and upselling opportunities.
Persistent Access with Sticky Header: Including a Sticky Header ensures that the main navigation menu remains visible as customers scroll down the page. This feature guarantees easy access to essential categories and sections of your store, eliminating the need to scroll back up to navigate.
Pricing of Launch Shopify Theme
The pricing structure for the Shopify Theme Launch is aligned with its mission to propel startups toward online success. Priced at USD 240, the theme is a strategic investment in launching your online store. What sets it apart is the generous offering of an unlimited free trial period. This approach underscores Shopify's commitment to ensuring that you have ample time to explore and fine-tune the theme before making a decision. The impressive rating of 4.67 stars speaks volumes about the positive experiences of users who harnessed the theme's capabilities.
The Launch theme is engineered to catalyze startups, offering a powerful array of tools designed to expedite the process of establishing online stores. These tools are tailored to address startup-specific needs, including brand education, pre-sales boosters, and Kickstarter campaign support. The design philosophy is streamlined and straightforward, focusing on presenting technical specifications and product details without unnecessary complexity. In essence, the Shopify Theme Launch is more than a design; it's a strategic asset that empowers startups to get off the ground quickly and establish a solid and captivating online presence.
Top 3 Shopify Stores using Launch Shopify Theme | Real Examples
Artisteria, a boutique store specializing in art supplies, maximizes Shopify Theme Launch's dynamic and engaging design. The theme's persistent header and advanced product filtering contribute to a smooth and effortless shopping journey, catering mainly to artists and individuals passionate about crafting. Whether customers are exploring a wide range of art materials or organizing their search by specific brands or categories, the experience mirrors the vibrancy and excitement of the store's colorful product selection. This approach underlines Artisteria's dedication to fostering creativity and reinforces its promise to provide unwavering support to artistic endeavors.
2. Fera Style
Fera Style utilization of the Shopify Theme Launch exemplifies how design and functionality merge to deliver a shopping journey that resonates with their brand ethos. The fusion of subtle aesthetics and user-friendly features underscores Fera Style's dedication to providing a seamless and visually pleasing experience to customers seeking FERA products. These are comfortable and look great.
3. Miravac
MIRAVAC is the perfect balance between engineering quality and affordability, designed to be the ultimate home cleaning technology. They created their device to include everything needed from a robot vacuum. Launch a Shopify theme to create an engaging online mecca. With the unique attributes of the theme, the store transforms into a world of technology, attracting customers with a passion for using technology to support daily work. The theme's visual appeal is in harmony with the store's mission, providing customers with a consistent and rich experience, making it easy to find the right products.
The Bottom Line
In eCommerce, the Shopify Theme Launch emerges as a strategic investment with boundless potential. Its versatile customization, seamless responsiveness, intuitive interface, and comprehensive support resources collectively contribute to an enriched digital storefront. This launchpad empowers businesses to transcend boundaries and create memorable shopping experiences, from startups to established brands.
May you interest
Full comparison: Shopify themes in ThemeForest & Shopify Theme Store
Top 21 Best Shopify Themes on Envato - Theme Forest [2023 Reviews]
How to get a Premium Theme on ThemeForest for Free