How to get a Premium Theme on ThemeForest for Free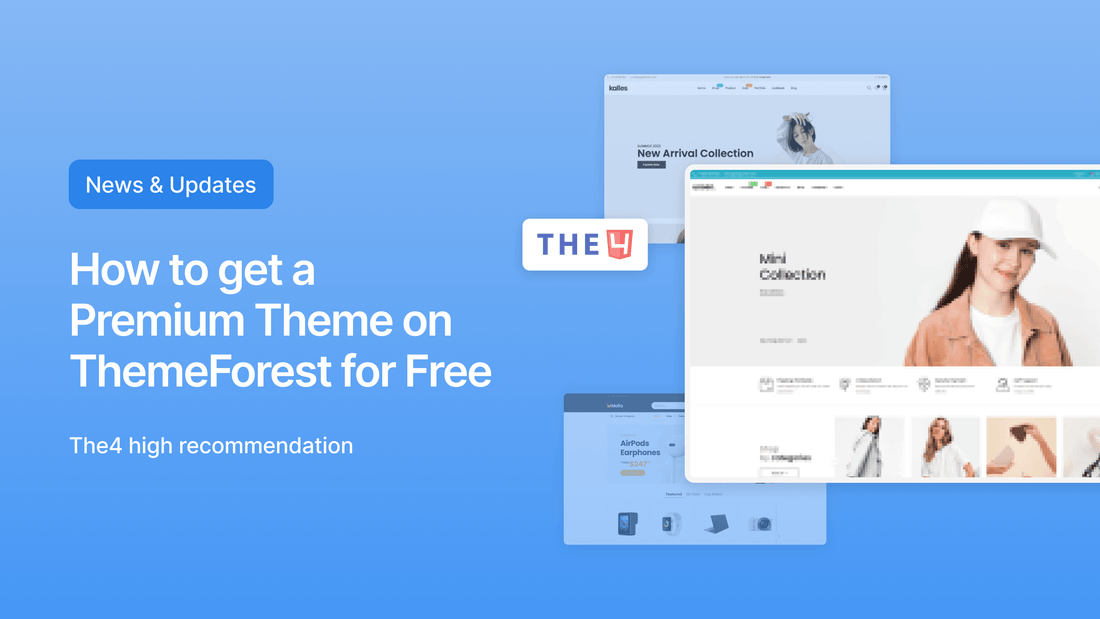 Surely if you are a website builder, you must know the famous theme providers like ThemeForest, mythemeshop,  themejunkies …. however, if you choose ThemeForest, you need to have a good understanding of it because ThemeForest is basically unlike any other theme provider in the market.
That being said, what makes ThemeForest so different from the other vendors? What is ThemeForest? How does ThemeForest work? and How can you get a free theme on ThemeForest?
What is ThemeForest?
Themeforest is a system that provides the largest selection of website templates available in the world and is also a place for developers to sell their products like Shopify themes, WordPress themes, Magento themes, Joomla templates, HTML templates, blogger templates … It is like a classifieds market for the webmaster community to buy and sell their products. All products listed above are quality tested and must meet specific standards to be available on ThemeForest's booth.
[ecom-global-block]ecom-buy-theme-block[/ecom-global-block]
Should I buy a theme from ThemeForest?
This is one of the most difficult questions to answer when you go to buy a premium Shopify theme, but you can refer to the following to help you decide whether or not to buy from ThemeForest.
1- A lot of choices. This is obvious because there are hundreds of thousands of items to choose from. (If you select a theme from The4 team. I can assure you that it will never disappoint you!)
2- Reasonable cost: The average cost for a WordPress theme sold on ThemeForest goes for $49 to $69. A reasonable fee.
(The4's themes are 69$ as well but with full functionality and support!)
3- Large support community: With popular items that are top sellers, the support community is also very large. You can go to the Envato forum and ask your questions. Abundant sources of information make it easier to use the themes.
4- Support from seller: When you buy an item here, you will get support service for free for the first 6 months. In addition to the theme price package, you can purchase an additional demo installation package and an extended support package later if you wish.
The link below is just one of our satisfied customer "feedbacks" for The4 theme.
5- The themes are always updated: The products are continually updated regularly by the authors, completely free.
6- Buy 1 time for life. You only need to buy one time to use the product for a lifetime without spending another cent.
7- Know any quality of themes: In ThemeForest, you will quickly know which themes have the highest quality, how many people buy and use them, and if the theme is easy to install or not by checking out the Review section.
8- View demo: You can view the actual demo on the supplier's website or right on ThemeForest.
Okay! With such advantages, I think you can easily decide whether you should buy from ThemeForest or not.
How to get ThemeForest free / get a premium theme from ThemeForest for FREE?
It's okay if you have a tight budget, or you want to use a high-quality free copyright theme on ThemeForest. (You can use it properly, legally, and fully copyrighted).
To use a Premium Theme on ThemeForest for free, follow these steps.
First, go to this link to go to the free theme page from ThemeForest (note every month there will be free rotating themes). When you come to the Download free theme page, you will see a free theme list appear (usually there will be three free themes listed per month)> click Download for free.
If you do not have an account, you can register a new account via this link. It is so simple that you can own a Premium Theme on ThemeForest for free, right? You can refer to the article of downloading hundreds of Premium themes.
Bonus- Do you want to get a 50% discount for Shopify theme worth 99$?
Absolutely no kidding! We understand your difficulty at starting a business, with a limited budget, it's hard to buy a theme worth $180, so don't miss out on the opportunity below.
Kalles is a theme designed to work on any device, especially mobile devices. Kalles theme brings great experience.
Kalles supports a complete ajax shop, with intelligent filtering, delivering extremely fast speeds, eliminating the need to wait for page loads. And Weryl, with its Instant Product Search system, instantly finds results instantly when you type without waiting for a moment.
In short, Kalles is perfect for a startup with lots of features to help you get your first orders.
Just Click here to register a new Shopify store with our affiliate link and click the button below to let us know.
Creating a website was a challenging task once, but now since there are various templates already available online. The web developer only needs to choose the right template and proceed with the work effectively. 
Well, even though it is easy to find theme providers, it isn't easy to choose Premium Shopify Themes. One needs to have proper knowledge of choosing the best theme that suits the business's objectives and the store's requirement. Over that many people want to Get ThemeForest Free. Now that is a double problem; one is to choose the best and other to choose without spending a single penny. 
In that case, we at The4 Studio can help you choose better and without any charges. Now let's see how that is possible. But before that, let us understand how The4 Studio is similar to ThemeForest.
Well, The4 Studio works as a market place for both the buyers and sellers. To be precise, The4 Studio is one of the reliable online stores with a wide selection of website templates. Besides, we also offer a place for the website developers to sell their designs like word press themes, Shopify themes, Joomla themes, blogger templates, etc. 
The4 Studio is a classified market but for the webmaster community so that they can buy or sell their products with ease. Plus, all the products listed on The4 Studio undergo quality tests to meet specific standards, meaning you are dealing with the best. 
How is The4 studio the best option for eCommerce business?
One can easily buy Premium Shopify Themes on any website that sells templates. But here are a few reasons on why you must prefer The4 Studio instead. 
1- We offer a lot of choices: 
At The4 Studio, you will come across hundreds if not thousands of different templates that you can choose from. Trust us; we assure you that our store won't let you down. 
2- Every product is at a reasonable cost:
You can come across various themes priced between $49 to $69. However, most of the themes cost around $69. But don't worry, this price tag comes with full functionality and support. 
3- We offer post-sales services:
For us, your project matters the most. And that is why our team works around the clock to offer you utmost assistance throughout your project. We will work with you to make your project successful.
4- Get updated themes always:
The themes on The4 Studio is regularly updated by the authors. And that means, our clients around the world get something new always. We leave zero chances for disappointment. 
5- Get demo before you buy:
You don't have to invest in our themes just by looking at the pictures. You can view the actual of all the themes before you decide to invest.